Located in Nha Tho str, about 100 meters from St Joseph Cathedral Hanoi, Ba Da Pagoda is a religious and historic site of Hanoi, a Buddhist center in Hanoi Old Quarter.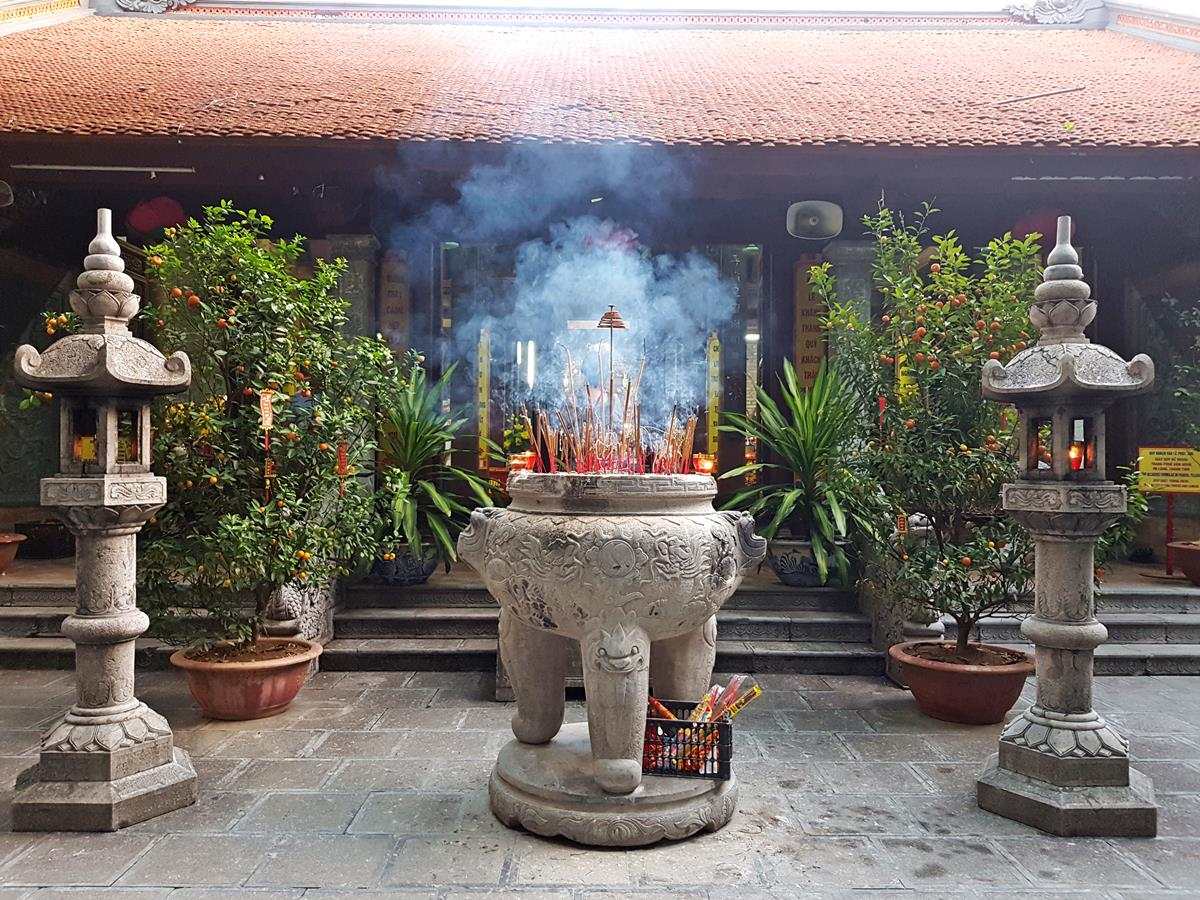 The legend of Ba Da pagoda
The pagoda dates back to the year 1056, under the reign of King Ly Thanh Tong, the name Ba Da pagoda (Stone Lady Pagoda) was given when building the walls of the new citadel, a stone was discovered that resembled a woman.
Believing that this was a sacred sign sent by the Mother Goddess of the land, the local people constructed a temple in the area to memorialize the stone. Throughout history, the pagoda was rebuilt but keep its sacred Buddhist sign of Hanoi.
Follow a narrow lane of Nha Tho street, you will find the religious pagoda in a very quiet corner, opposite to the busy city life outside, it makes this places more serene and peaceful. Given the feeling that you are in a very different place, not in the center of Hanoi capital that is the special Hanoi city where the old and new things exist together.
The spiritual life of local people
The best time to visit Ba Da pagoda is the first day and mid-day (15th day) of the lunar month when you can discover a part of local Hanoi spiritual life.
In these days of the lunar month, many locals, mostly elder come to worship and practice meditation or listen to monk's lectures. Locals come here to burn the incense and pray for the best things to their life for health, wealthiest and happiness.
There more young people come to the pagoda for worshiping, for them it is better to be in this quiet place and balance the busy working life outside. It helps to refresh their minds.
Local people also burn the paper money and other paper offerings burned with the belief that it will be sent to the ancestors and they could use this in a different world.
The pagoda with its large yard is also a parking site for the motorbike of office staff working nearby. In the normal day, the pagoda welcomes local meditators and tourists coming to visit.
Ba Da Pagoda, well- located in the heart of Hanoi Old Quarter, remains one of the most special Buddhist sights of Hanoi people, where you can find a part of local spiritual life during a walk around Hanoi Old Quarter.
Bà Đá (Stone Lady) Pagoda
Opening hours: 07:00 AM – 09:00 PM
03, Nha Tho street, Hanoi (100 meters from St Joseph's Cathedral, 200 meters to Hoan Kiem Lake (Map)
Entrance fee: No