Hanoi has an attractive street food culture. Street food serves fresh meals with herbs, lime juice, and chili. In the morning, most locals in Hanoi will choose a healthy breakfast to start such a day including Pho, Bun Rieu, Xoi, Banh Mi and Bun Cha. We prepare a short introduction to this food and where you can taste them in Hanoi. 
Phở
"Pho" is a signature food of Vietnam, at least nine out of ten travelers will be asked if they enjoy "pho" or not. For many restaurants, they cook the simplified version of "phở" with stewing bones of cows and pigs, rice noodles and beef or chicken. Things that make Pho Ly Quoc Su, Pho Bat Dan, Pho Thin, etc. are species that put in the stock and how long the stock is prepared. The bones are stewed for at least 10 hours with ribs, enamel and ginger, purple onion, cloves to name a few.
Pho is an all-day dish; you can eat pho for breakfast, at lunch, and as a diner. But for most Vietnamese people, we eat pho in the morning before getting a cup of coffee.
So for the first morning waking up in Vietnam, you should try "pho," for the next few days, there are at least 5 street food that you can pick as your breakfast while staying in Hanoi.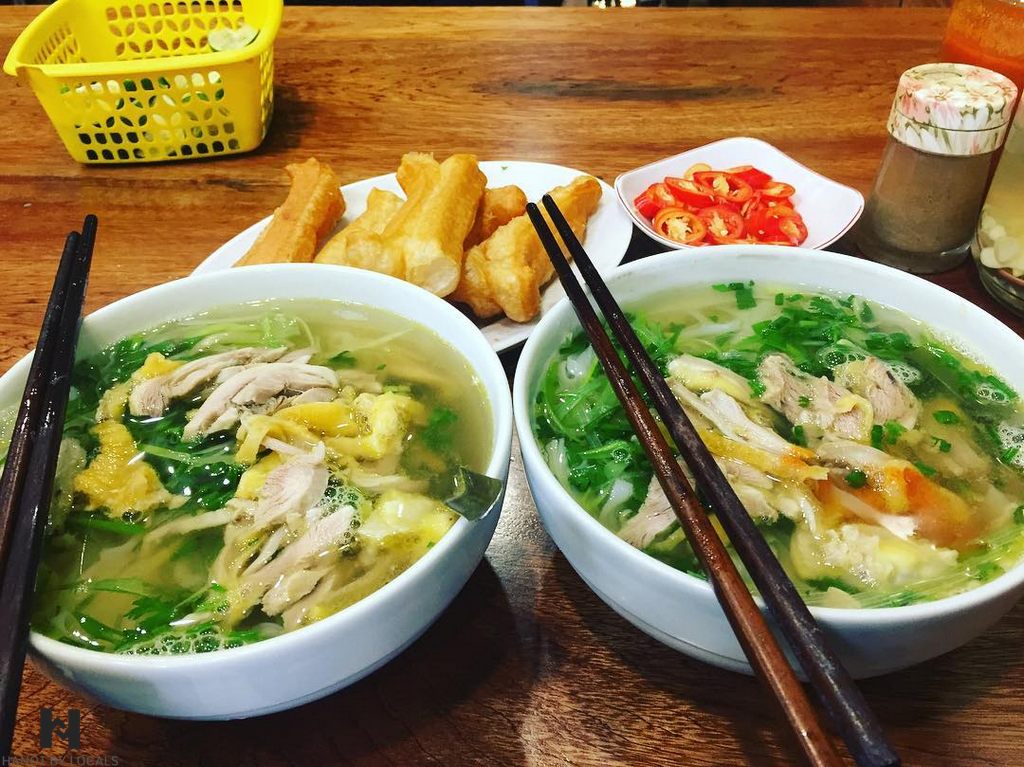 Where to eat pho?
Pho 10 Ly Quoc Su (Map)
Pho Bat Dan – 49 Bat Dan
Pho Thin – 13 Lo Duc
Pho Suong – 24 Trung Yen Alley
Pho Vui – 25 Hàng Giầy
Price range: 30.000 VND – 70.000 VND 
Bun Cha
"Bún chả is one of the oldest favorites of North Vietnam cuisine," says Michael Chuong, the chef at Elements, an Asian-fusion restaurant in Chapel Hill, North Carolina. A set of bun chả consist of "bún" rice vermicelli, and "chả" grilled pork served in a broth or dipping sauce.
When eating bún chả, you should add a little garlic and fresh chili to make the sauce for tasty and don't forget to eat with local vegetables and herbs. Vietnamese dishes will not be completed without them. It doesn't matter whether you eat Bun Cha in a restaurant or on the street in Hanoi, you will be served in the same way; a small plastic basket of fresh lettuce, basil, lemon balm, young banana flower, and coriander is served along with bún chả.
Bun Cha can be found anywhere in Vietnam. But the flavor of Bun Cha Hanoi is different, but what makes it so different? No one knows. Some say it is because of Hanoi lemon balm that smells better than lemon balm in other places. Some say it is the sauce, while others think it is how the pork is prepared.
Where to find tasty Bún Chả in Hanoi?
Alley 74 Hang Quat: The restaurant is inside a small alley with no signboard.
Bún chả Tuyết 34 Hàng Than
Bún chả 41 Cửa Đông
Bún chả Obama (bún chả Hương Liên) 24 Lê Văn Hưu
The price range from 30,000 VND to 50,000 VND per bowl 
Note: the old bun cha Dac Kim in Hang Manh is closed, the one you see by now was the newer one. The new Dac Kim's Bun Cha tastes similar to other restaurants, but the price is a bit higher.
Banh Mi
Banh Mi is a nationally loved food. Recently, banh mi has taken over phở to be the iconic Vietnamese food and is ranked as one of the best sandwiches in the world. Every time you don't know what to eat, pick banh mi.  Bánh mì is an airy and crunchy French-style baguette, stuffed with pate, pork, egg, chicken, vegetables (coriander, cucumber, carrot, slices, radish), and sauces.
The types of filling are different from the north to the south. In Hanoi, people usually choose pate, egg, chả cốm, add some salad made from papaya, carrot, and cucumber, then topped with tomato and chili sauce.
From Da Nang, Hoi An to the South, the fillings are more varied with grilled pork or chicken, ground meat, ham, etc. (there are 7-8 types of meat to be chosen, so I will leave it for you to discover), added with special spicy sauce and some vegetable.
Where to find tasty Banh Mi in Hanoi?
Bánh mì Hội An – Bami Bread: a franchised Banh Mi in Hanoi. https://www.facebook.com/BamiBread/
Kepad Banh Mi – near Goethe Institute – 56-58 Nguyễn Thái Học
"Bánh mì Phố Huế" – 118 Phố Huế
Banh mi Bao Quyen – 8 Chả Cá
Price range: 20.000 VND – 50.000 VND per set
Xoi
Back in the time when Vietnam was an underdeveloping country, Xoi – sticky rice is the cheapest food that the locals eat for breakfast. The cheapest xoi is from 5000 VND, and the most expensive is around 80,000VND. There are three main types of xoi that locals usually eat for breakfast: white xoi to eat with meat or egg, xoi lac (sticky rice steamed with peanut) to eat with pork floss, and xoi xeo – yellow sticky rice with mashed mung bean, fried onions.
Watching how a seller makes xoi xeo is really fun. First, she scoops a serving spoon of sticky rice, puts in a piece of banana leaves, then she starts smashing a mung bean ball inside their hand and lays it on the top of the sticky rice. Next, she adds some brownish crunchy deep-fried onions and a tablespoon of liquid fat. Xoi Xeo's price is about 5,000 to 10,000VND
White xoi with meat is more like a full meal for many locals; it is served with braised egg, braised pork, chicken, sausage or Chinese sausage. You always can choose to have 2-3 types of topping, and the set of xoi can keep you full until the late noon. The most famous xoi in Hanoi must be Xoi Yen, a pack of Xoi Yen is about 40,000 for one topping, and the all mixed set is around 80,000 VND.
Where to eat "Xoi" in Hanoi?
Xoi Yen – 35B Nguyễn Hữu Huân (it is a new store, the old Xoi Yen closed for some unknown reason)
Xôi xéo Hàng Bài – 37 Hàng Bài
Xôi Cát Lâm – 24B Duong Thanh
Price range: 10.000 VND – 80.000 VND per set
Bun Rieu
Because Pho has taken the place of Vietnam national loved noodle, people seem to forget a kind of noodle that Hanoi people all love – Bun Rieu. Why locals love Bun Rieu? Because to get a good bowl of Bun Rieu, we don't need to queue as what we do for Pho Thin or Pho Ly Quoc Su. Bun Rieu is easy to cook; my mom sometimes cook for us on the weekend,  thus walking around Old Quarter you will see many good bun rieu restaurants.
The broth used in cooking Bun Rieu is made from tomato paste, and Freshwater crabmeat, mẻ  – tamarind paste ( made from rice) adds a sour flavor to the broth. My favorite Bun Rieu store is Bún Riêu Huyền Thu – 2F Quang Trung. The owner is very nice, and I always feel like I am at home every time I come to this store. There is no rush for ordering; you can sit, chit-chatting, take a long look at the menu then order. The price ranges from 35,000 VND to 60,000 VND depending on your toppings.
Hanoians usually eat Bun Rieu with beef, fish, freshwater snail and pork. Some people add mam tom to bun rieu (fermented shrimp paste), it has quite a strong smell, if you can stand the smell, then you should give it a try. Follow the Vietnamese principle of gastronomy; you always should add some vegetable, lime or chili sauce to create balance for your dish.
Where to eat "Bun Rieu"?
Bún Riêu – 2F Quang Trung
Bún riêu 11 Hang Bạc
Bún riêu 42 Hòa Mã
Bún Riêu – 75 Hàng Bông
Bún riêu 26 Trần Hưng Đạo
Bun Rieu Tho Xuong
Price range: 30.000 – 50.000 per bowl
Let me know if you have tried all the above foods, and I will come up with a new list of street food that will please both your mouth and your stomach.
---
Thanh Le