If you tell me that Old Quarter – Hanoi is a bit ruined with all those old buildings, I would laugh and tell you that it is true but it is the most beautiful thing about Hanoi. For this special blog, I want to leave all the sorrow of war and the colonial domination behind, and take a look at how the French architecture changed the look of Hanoi in 100 years.
The French people came with the mass construction of office buildings, personal mansions, theaters, Opera houses, and prison. Sometimes, I wander around Hanoi and realize that many old French-style houses are well-hidden behind large and shining billboards in old quarters, or laid behind a narrow valley that no doubt you will miss if it isn't by chance you step inside
The common of color
Most French styled sites were painted in yellow with green windows, this concept is highly copied by Vietnamese later on that yellow is a common color for building everywhere in Vietnam. I think many of us don't know why they pick that color or just because it is a common color. That is the strength of "Vietnamizing" all the foreign factors, things are embraced as one of the parts of Vietnamese culture.
The remained glory
Cathédrale Saint-Joseph – The oldest church of Hanoi 
Embarked on a grand mission of civilization, the French colonial administration redesigned Hanoi to match what the French people had in their homeland.  The Cathédrale Saint-Joseph built-in 1886, the neo-Gothic church with twin bell towers to match those of Notre Dame de Paris. The Cathedral is a remarkable piece of architecture but to most of the local people, it is where we have a short break with friends while drinking "tra chanh" and "chem gio" (aka chit-chatting).
Trang Tien Plaza
A short walk from St. Joseph's Cathedral, passing Hoan Kiem Lake and you will see Trang Tien Plaza located at Trang Tien Street. Once it was named Magasins Godard (later, Grands Magasins Reunis), the first department store in Hanoi. Today's version of this building is far from the luxurious and outstanding appearance during colonial times. (Or it is just me who has a heart of old).
Hanoi Opera House
The next stop should be Hanoi Opera House whose design was inspired by Opéra de Paris – Palais Garnier. The type of stone used for the roof of this building was transported from France. Now you can buy a ticket of 120,000 VND to get inside and to see the marble staircase, French murals, and chandeliers.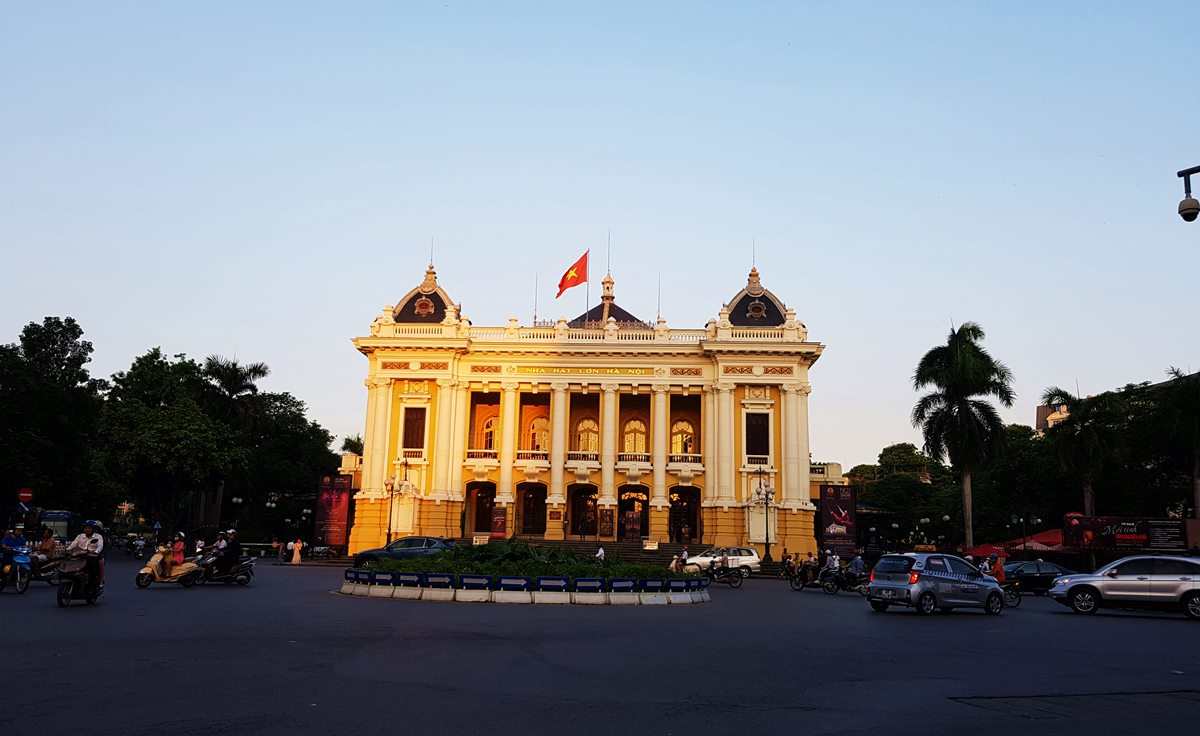 Hanoi Metropole Hotel
Not far from Hanoi Opera House is Hanoi Metropole Hotel. I don't know much about this hotel except for its expensive price, and a portrait of an 8-year-old Hmong boy by Joan Baez that caught my eyes the first time I came there. Thanks to the Internet, I was able to detect the opening date of the hotel in 1901. What makes the hotel special is not only its luxury design but also the war bunker under it. Most of the hotel's staff was aware of this bunker but it was only rediscovered in 2012. Unfortunately, the tour is not open for the public; unless you stay in the hotel then you will be able to discover a part of Vietnamese history in the most famous venue.
Hoa Lo Prison
Laid between Hoan Kiem Lake and Thong Nhat Park, around Hoa Lo prison is the French Quater. This name is not well-known by many young Vietnamese but if you have time you should spend half of a day discover this area and visit mansions and Parisian-style buildings. Many of those are now turned into government offices; some were redecorated to by fine dining restaurants and coffee shops. I would recommend some nice places such as Home Hanoi Restaurant, 34 Châu Long; Cosa Nostra, 24 Tông Đản; The Hanoi Social Club, 6 Hội Vũ; Bêtô Bistro & Tea lounge, 1B Hai Bà Trưng.
>>> Read more about Hoa Lo prison 
Despite the beauty of colonial building, it would be unwise romanticize this dark period of Vietnam history, I was too young to know what happened but my grandparents knew my heart, I grew up hearing their stories about the old Vietnam, how it was changed by French domination, how they missed the old values the values of Trang An's people. All that is now behind the dusted door, but the French-Vietnamese style architectures persevere a special enchantment for visitors to Hanoi.