Chau Long is market a traditional local market, located towards the north of Hanoi Old Quarter, at Chau Long Street (Ba Dinh District), near Truc Bach Lake.
The main entrance to this market is at Chau Long Str. while it has another smaller gate at Tran Vu Str., this smaller gate is just off Truc Bach Lake. View on map
From Hoan Kiem Lake, you can get the taxi (30.000 – 50.000 VND) or just walk to Chau Long market via Hang Ngang – Hang Dao Street – Hang Than street – Nguyen Truong To street. At the end of Nguyen Truong To street, you will find the corner where Chau Long market located.
The market opens from early morning till late afternoon.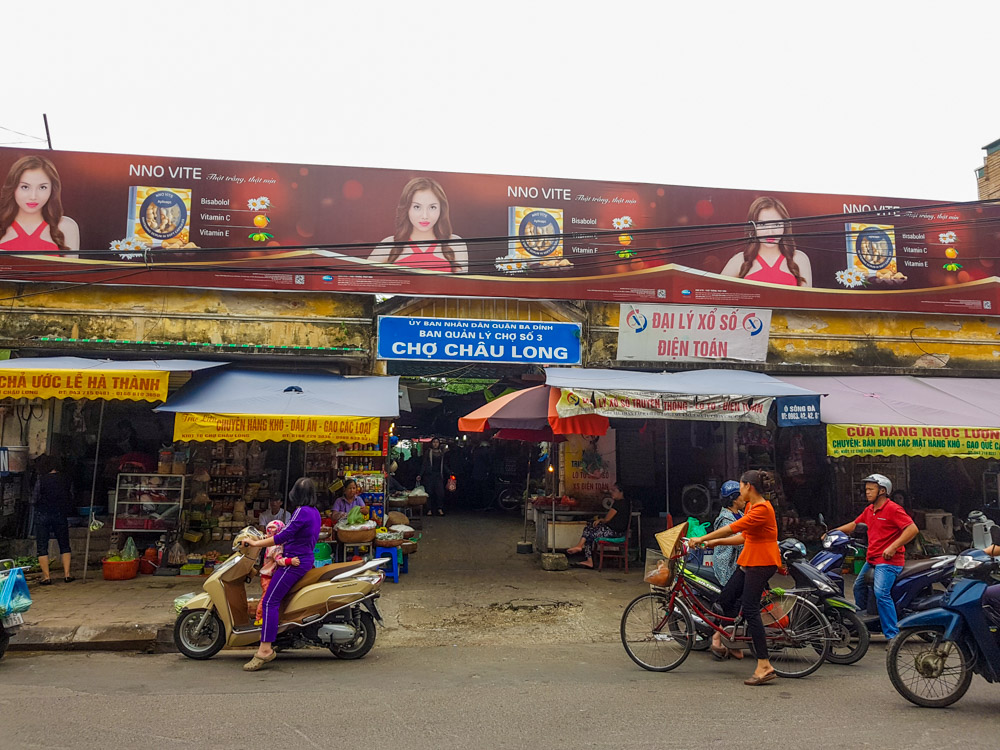 Experience local market
The market brings you a taste of local. Like other local markets through different regions in Vietnam, playing an important role in the local life, the market is the commercial trade point where local merchants sell live animals (chicken, ducks, pigs…), fishes, vegetables…
Local Hanoi people visit their market in the early morning and late afternoon to prepare meals, most of them are older women as they have plenty of time. Traditional Vietnamese cooking meals are made from very fresh ingredients so we visit the market quite often (once or twice a day). Thus, in the morning you will find many retired women visit the market to buy food while there would be more office women visiting the market on the way back home. The market served food supply for thousands of locals living around.
Follow a wet and dark path to get inside of Chau Long market, you will discover many food merchants selling fresh chicken, ducks, seafood, fishes… or meat cuts along with many other colorful fruit and veggies. In another corner, there is some local shop for noodles, rice, oils, and fish sauces…Each corner of the market has a kind of special smell that you will never find in a supermarket or modern shop.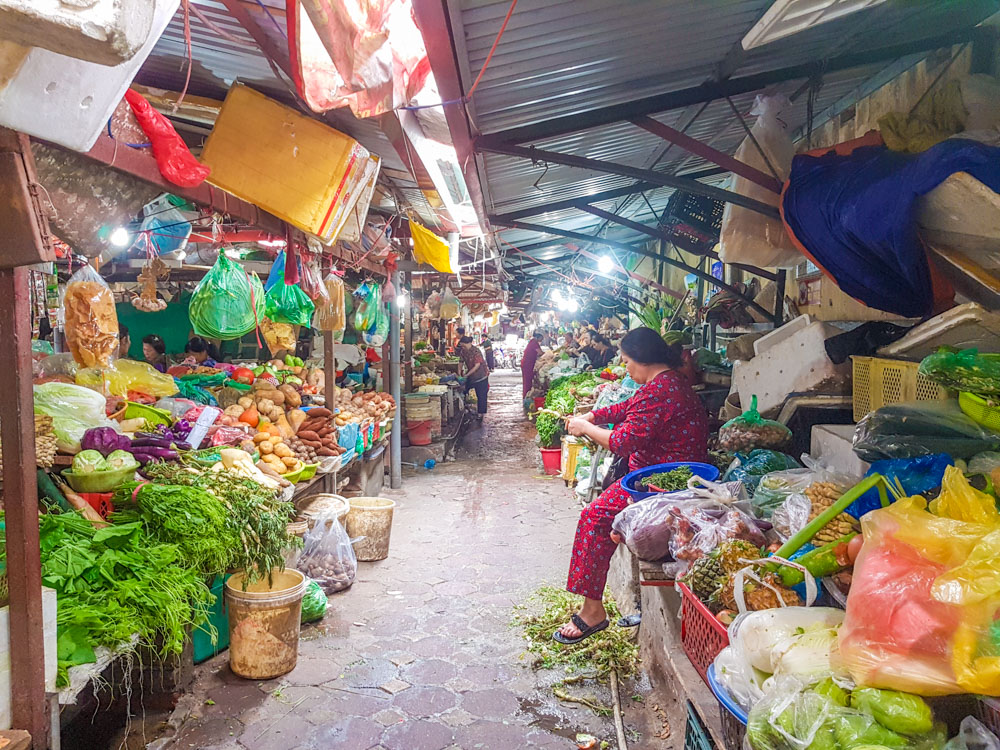 At the market, local merchants sell everything to cook a Vietnamese family meal, our family meals usually include:
A cooker of steamed long-grain white rice
Individual bowls of rice
Fish/seafood, meat, tofu (grilled, boiled, steamed, stewed or stir-fried with vegetables)
A stir fry dish
Raw, pickled, steamed, or fresh vegetables
Canh( Vietnamese soup)
Fish sauce with garlic, pepper, chili, ginger, or lime juice. It sometimes can be muối tiêu chanh (salt and pepper with lime juice) or muối ớt (salt and chili)
Fresh fruits or desserts
So, the local market as Chau Long provides everything for these meals and even more…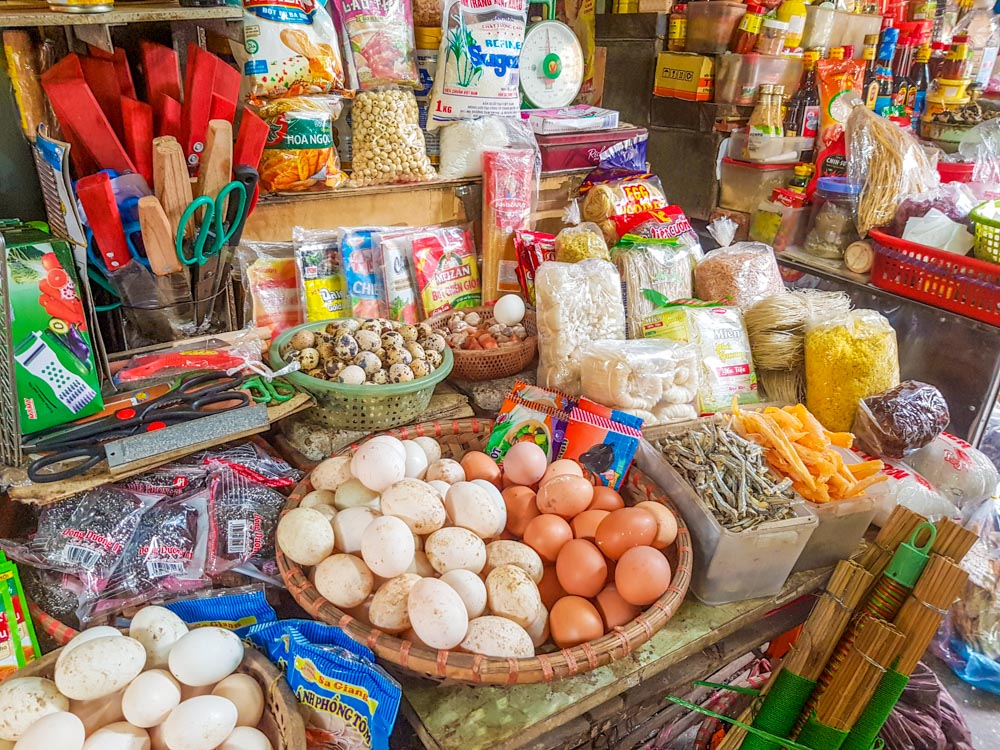 The different between Dong Xuan market and Chau Long market
Visiting Hanoi, many people are told about Dong Xuan market as Hanoi's largest covered market. Dong Xuan market is actually a wholesale Market offering a wide range of goods as souvenirs, accessories, clothes, household appliances…while Chau Long market is a smaller one and known a wet market, a very traditional market that suites local needs with food ingredients, some footwear shop, dry foods… Thus, Chau Long market is a more local place for you to discover a part of Hanoi's life.
Where is the next destination after Chau Long Market?
Chau Long market locates in the meeting point of Hanoi Old Quarter and Westlake, from there you can take a short walk to visit some interesting places and try some Hanoi's specialty:
Chau Long Buddhist temple (112 Tran Vu street)
Bookworm Hanoi (bookshop) at 44 Chau Long street
Quan Thanh temple (Thanh Nien road)
Tran Quoc pagoda (Thanh Nien road)
West Lake
For food lovers, just a short walk to local tastes:
Pho cuon Ngu Xa (many local restaurants along Ngu Xa street and Nguyen Khac Hieu street)
Banh Tom Ho Tay – Shrimp cake (01, Thanh Nien Road, Truc Bach)