Dong Xuan market is the oldest market in Hanoi, originally built by French people in 1889, the largest local market not only in Hanoi city but also in the Northern region of Vietnam. During the history, the market was rebuilt in 1994 after a fire which almost destroyed the market
The market is a famous tourist site when you visit Hanoi but it is not a good choice for tourist shopping
Dong Xuan market opening hours: Daily from 06:30 AM – 17:00 PM
Entrance fee: No
Address: Dong Xuan Street, Hanoi Old Quarter (Map)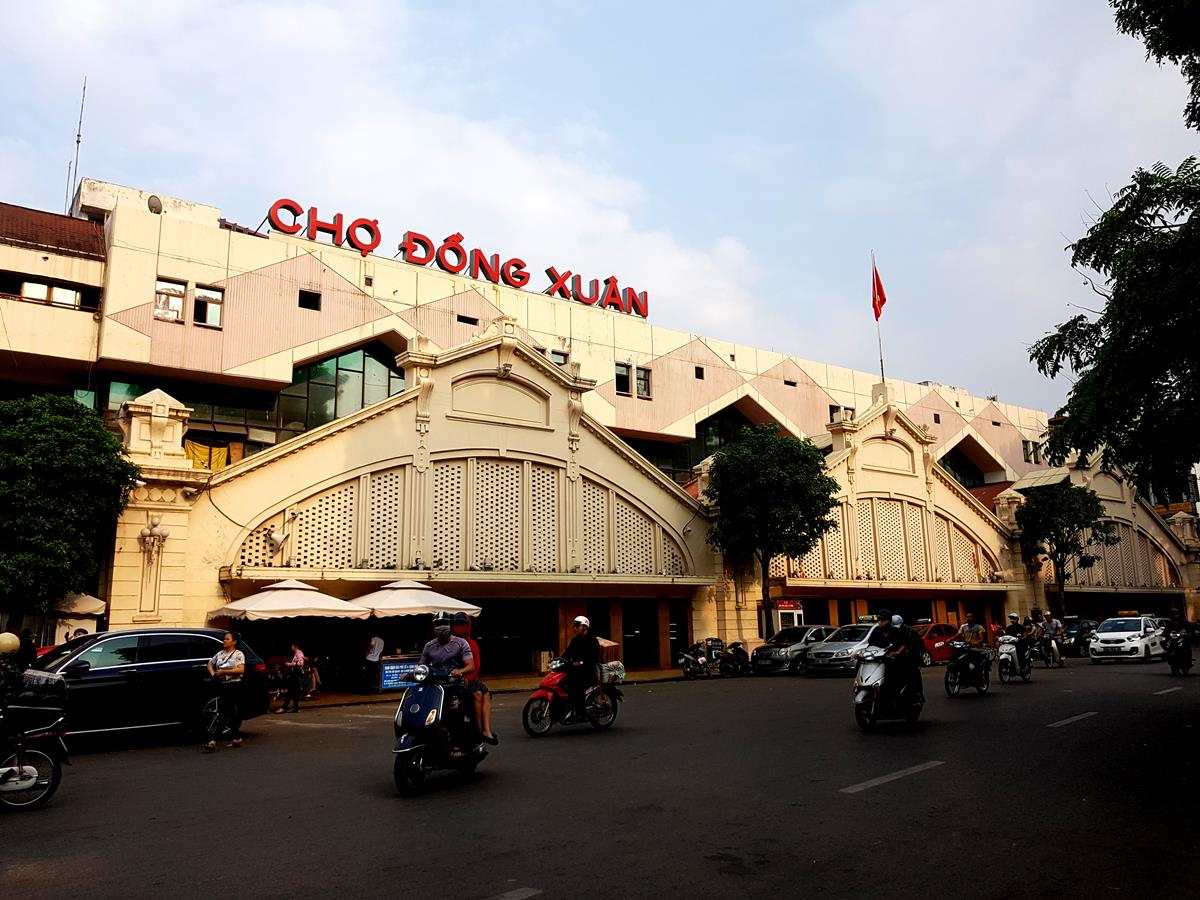 Dong Xuan wholesale market 
It is truly a large local market of Hanoi and Northern Vietnam, various types of goods can be easily found here for a huge volume trading. Many traders from different provinces buy good items from the Dong Xuan market to retail at their own provincial shops. Thus, the Dong Xuan market is a local wholesales trading market, the goods are cheap for wholesale buyers.
You can find everything from local clothing, accessories to souvenir, household goods in this local market of Hanoi but it mostly uses for local trading, do not expect to have a wealth of options with excellent artworks or the best of Vietnam souvenir.
The market has 3 stories
1st storey: selling electronics devices, home appliances, watches, backpack, bags, wallets, souvenirs
2nd storey: selling fabrics for apparel
3rd storey: selling clothes for children, men, and women
The sellers are also easy to pass you by, their target customers are local wholesales buyers, you can buy some stuff of things.
You can also find some reviews about the shopping experience at this market from other travelers on TripAdvisor
How was a visit to the Dong Xuan market?
Definitely yes, come simply to experience a typical Vietnamese market, to observe local trading and part of local life in Hanoi. The three-story market provides many items including fresh produce, dried goods to colorful clothes, shoes… The market divides into many small stalls for wholesales and small traders.
Walk through the market, where you come to see the vibrant life of local traders. They work hard and perform busy trading for the whole day to feed their family, as what happens for most people in Vietnam these days.
Getting to Dong Xuan market from the Hanoi Old Quarter 
Take a walk through Hanoi Old Quarter to pass by Bach Ma temple in Hang Buom str then walk ahead to Hang Ngang street, visit Dong Xuan market and walk to nearby Long Bien bridge in the afternoon to see the busy locals getting back home in traffic, you can find some interesting features of Hanoi local life, how they worship, what they eat, how they work at a local trading market, and get home after work.
Dong Xuan night market
The wholesales market closes at 06:00 pm every day but there would be another night market opens just in front of the entrance, on Dong Xuan street, the area of the walking street.
The night market opens on Fridays, Saturdays, and Sundays from 18:00 pm. The quarter from Hoan Kiem lake to Dong Xuan street will turn to walking streets.
The market has full of things to buy, you will find vendors selling bamboo dolls and pictures, handmade postcards, and even leather handbags. Necklaces, bracelets, keychains, and more are sold in a variety of shapes, sizes, and colors.
Some locals tips when visiting to Dong Xuan market
The market is crowded with locals and tourists so keep your belonging in your hands carefully. You might want to go in a group or with locals to make thing easier.
You should bargain when buying things.
Getting to the Dong Xuan market on walking or taxi is the most convenient way, there is not easy access to the parking area. And, you might want to take a walk to Long Bien bridge or try street food in the nearby alleys.
Dong Xuan market is an interesting tourist site that you should visit to know about local life, observe part of our commercial trading activities and local shopping.
If you are looking for a shopping opportunity, take a walk to Hang Gai str or some other tourist shops around the Hanoi Old Quarter.
If you are looking for a local retail market with most of local fresh produces, take a walk to Chau Long market (Chau Long Street, Truc Back Lake)