Many tourists who travel to Hanoi around five years ago complained that there was nothing to do in the city at night: some small bars, Night Street, performance and all closed at 11.00 pm.
Now, the government allows stores and bars to open until 2.00 am and some coffee shops open for 24h. The new policy turns up Hanoi Old Quarter and makes that place become a sleepless center of the capital. In this article, I will list some places and activities so that you can enjoy Hanoi nightlife.
Bia Hoi Junction at Ta Hien and Luong Ngoc Quyen Street
You will miss all the fun and laugh of Hanoi if you skip Ta Hien Street when the night falls. Several shophouses have plastic stools spread out onto the streets (marked with a different color for different shops), fresh beer is served for about 10,000vnd to 15,000vnd per cup along with some side dishes such as shredded beef jerky, steamed peanuts, potato chips, and other snacks.
Bia Hoi Junction attracts both young local folks and tourists who are looking for some social time with a cool drink. You can choose to sit on some open bars which serve a wider range of beverages like imported beers, wine, and cocktails. Some recommend bars at Ta Hien: Fat Cat Bar, Funky B, and Hay Bar.
Experience Hanoi street food
Hanoi is famous for street food that is a fact none can deny. But you might not know that the food you can find at night is quite different from the food that you see on the street at the daylight. So here are some dishes you can eat at night:
Mien luon ( Eel noodle) – 18 Lãn Ông. This store only opens at night around 5 pm till 10 pm. Eel noodle is a common dish in Vietnam, and there are many other restaurants sell it all day round, but the noodle at 18 Lan Ong is nice plus you can sit inside an old Chinese medical house that adds up the feeling of Hanoi to your meal.
Mỳ gà tần (chicken noodle with Chinese traditional medicine) – 24 Hàng Bồ. You will see some small plastic stools and a small sign in front of the house. As the owners and they will find a place for you to sit. It is said that Chinese medicine is good for your health, so a lot of local people come to this shop. It opens from 5.00pm to 11.00pm.
BBQ at 47 Ma May Street. The Xuan Xuan BBQ serves delicious beef BBQ that is comparable to the food in any casual dining restaurants with a lower The restaurant has both indoor and outdoor dining area, eating outdoor means you sit on plastic stools on the pavement. Similar to Ta Hien, this place is where you can have social time with local people, drink beer and grill your food.
Tong Duy Tan Street is a well-known food corner of Hanoi. You can find all kind of restaurants from fine dining to street food vendors, to the 24-hour Some suggestion for you: Xofa café – 14 Tong Duy Tan, Aroi Dessert Café – 9 Tong Duy Tan, Mỳ gà tần at Cay Si Quan.
Night Market adds new colors to Hanoi nightlife. The market opens only on the weekend along Hang Dao Street. While walking along the street for shopping for some souvenir, you can try some snacks such as fresh fruit, grilled meat, and some Korean style street food.
Watching cultural shows
Among all performance and shows in Hanoi, the water puppet show is the must-see one if you are first-time travelers to Hanoi. The water puppet has long rooted in the history of Vietnam; it is such a perfect representative of Vietnam's rural life because it brings many beloved folk stories to life in an attractive and fun manner. The Water Puppet Theatre is located at 57B, Dinh Tien Hoang Street. (Near Hoan Kiem lake)
Hanoi Opera House. As its name, the place features the finest singers, performers, and orchestras in Vietnam and all over the world. To check out the performance at Hanoi Opera House, you can visit its website: http://hanoioperahouse.org.vn (it doesn't work well actually). You should watch My Village show which is a delicate merge of tradition and innovation, where the poetic beauty of Northern Vietnam's village life is presented under a new cirque approach. The show is highly recommended by tourists and local people who love art and tradition.
Four Palaces Show. The show is inspired by a traditional spiritual performance named "Hau Dong." "Hau Dong" or "Len Dong" is a worship activity of Mother Religion, whose followers believe in The Mother Goddess who brings about the favorable weather, happiness, and fullness to people. Four Palaces Show recreates a part of 36 sections in "Len Dong," this section celebrates the Goddess of Mountains & Forests. A place to see: Cong Nhan Theater, 42 Trang Tien St, Hoan Kiem, Hanoi, every Thursday, Saturday at 6.00 pm, 7.30 pm.
French Culture Center in Hanoi. It is a center of art and cultural performance sponsored by the French Embassy. Every week, it holds many classical music performances and movies. For more information, you can visit its website or Facebook page.
>>> Read more about top shows and performance in Hanoi 
Bars clubs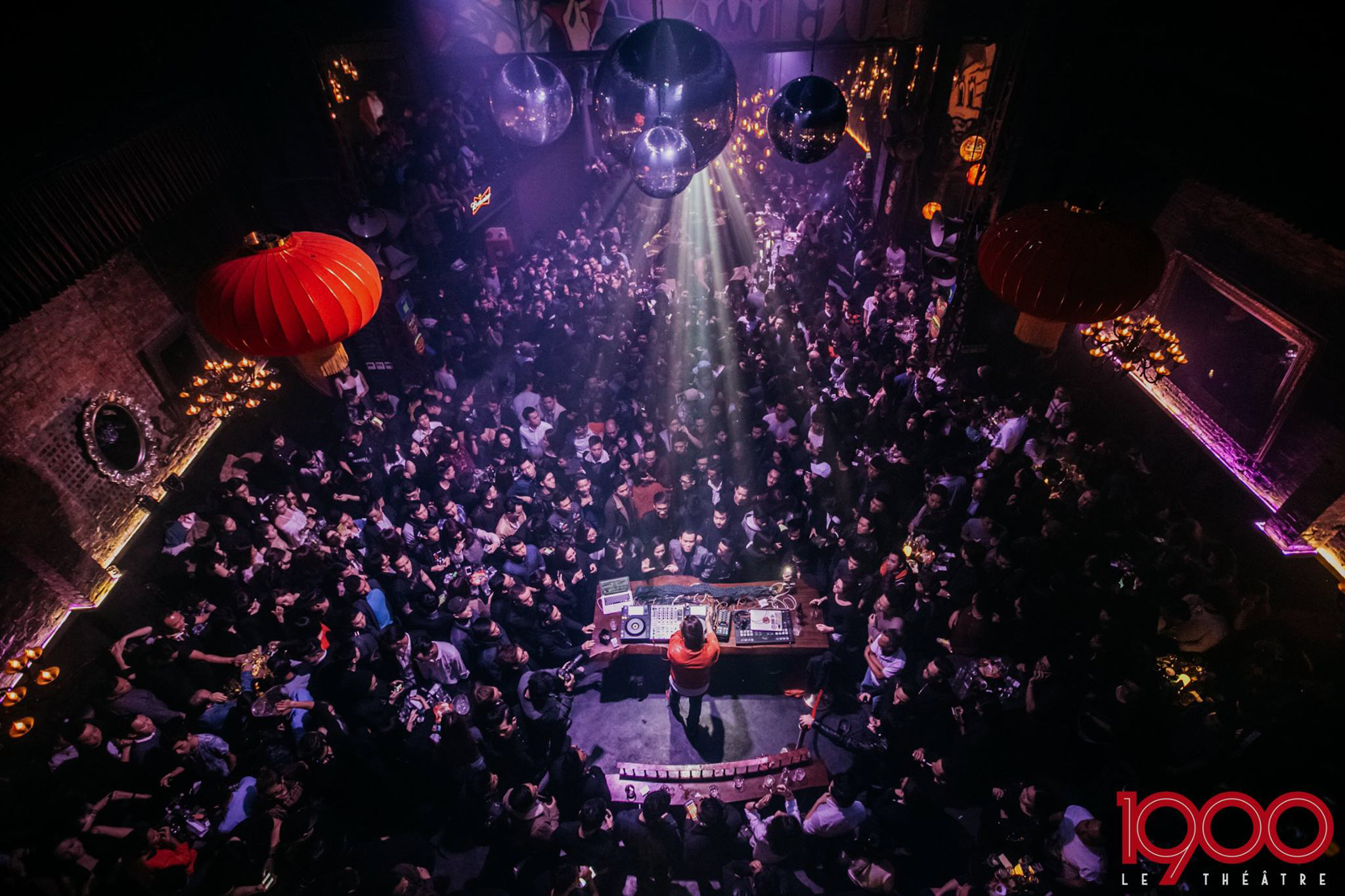 Bars have developed quickly with the widespread of EDM music, so let dress up and get ready to stay up all night at one of these places that I listed below.
1990 Le Theater, no. 8 Tạ Hiện. Renovated from Quan Lac Theater – the theater was built in 1900, and operated during French Colony. Each night, one kind of music is performed by famous DJ and singers in Vietnam and from all over the world, especially the dance music that makes the atmosphere very exciting for all of the guests
Camelia Lounge located on the 3rd Floor of Melia Hotel (44B Ly Thuong Kiet Street, Hoan Kiem District). The Camelia Lounge is the first champagne bar in Hanoi with a collection of 20 champagne. The atmosphere is suitable for high-end parties and social nights for business.
Some other bars that you night find interesting: The Bank (41 Hai Ba Trung), Hero Bar (42 Yen Phu), Hair of the dog (32 Ma May).
Live music
Live music in Hanoi is mainly jazz, rock 'n roll, and acoustic. Live music clubs are perfect for anyone who wants to have a slow-flowing night in Hanoi.
Hanoi Rock City (27/52 To Ngoc Van) is famous for the vibrant atmosphere and pleasing prices with rock, electro, experimental, and reggae.
Cama Atk (73 Mai Hac De) is described as a speakeasy with a cozy and friendly atmosphere. The live music is only available for the weekend.
The Doors (11 Hang Chinh) are usually live from 9:00 PM and special music nights with the contribution of foreign artists are often on every Friday night.
Bar 84 (23 Ngo Van So) has theme music on each day of the week, for example, Monday is "Ladies' Night" where acoustic is played, Tuesday is for Pre-1975 Vietnam songs and 60-70s ballads with the theme "The Old Boys Blue," Wednesday is for Rock' n'Roll.
Minh's Jazz Club (1 Trang Tien Street) is found by Mr. Quyen Van Minh – a saxophone teacher. The live music starts at 9 pm every night. The place is near Hanoi Opera House, when you see the opera house, walk down the lane between the Opera House & Highlands' Coffee.
Hanoi walking street is a new place for live music on the weekend. Students and young artists perform music. Some artists are really good; some need more practice.
---
Thanh Le