You may come across the news that Obama tried Bun Cha Vietnam, Banh Mi is fantastic, or Pho in the top 30 most delicious dishes of the World (by CNN). To fulfil your curiosity, please join a Hanoi street food tour to get the answer. We will share tips for you to choose the best food tour in Hanoi. 
Street food tour, a must-do experience in Hanoi?
There are many reasons why we highly recommend you all to try Hanoi street food. Because street food is so iconic in Vietnam. Our dishes can be listed on pages with so many cuisines, such as Pho, Bun Cha, Banh Cuon, Nem Ran, Pho Cuon, etc. Each food has its taste and can make you satisfied after the meal.
Besides that, Hanoi street food is amazing and allows travellers to try a lot. Vietnamese people do not like to use much gluten and cheese. Each food can be eaten with fresh vegetables such as herbs, cucumbers, carrots, bean sprouts, and coriander. Even when you eat a lot, you still get a healthy body.
The next reason why everyone should enjoy Hanoi street food is that the price for the tour is reasonable. In Vietnam, you do not need to walk inside a restaurant, but along the street, there are many places to rest for breakfast, morning and evening. With only one dollar, you can enjoy a great banh mi, or have a delicious hot noodle. With just 5$, you can try a long list of dishes including Pho, ice tea, steamed rice rolls, and sticky rice ice cream. Many foreigners when experiencing such tasty food at such a cheap price have to say: Unbelievable!
The last reason to try Hanoi street food is to understand more about the culture of the local people. If you want to know more about Hanoian, like a local for some days, you have to try street food. No Vietnamese say "No" for one of this long list: Banh Mi, Che, Ice tea, Bun Cha, Banh Cuon, etc.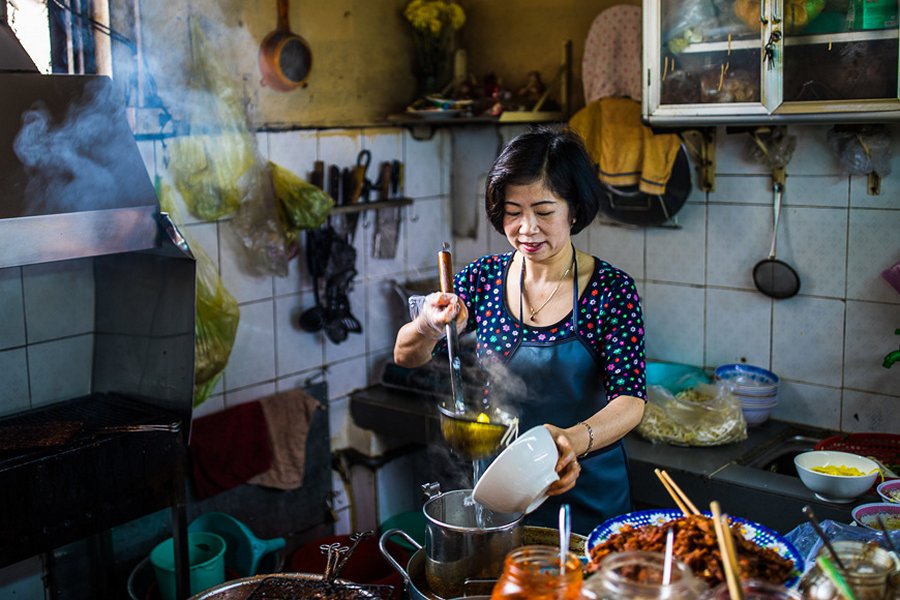 Tour options for travellers to pick
For a street food tour in Hanoi, you can book the morning tour, afternoon tour, or spend time on the evening street food tour.
Morning street food tour 
There are many dishes to experience in the morning. In the morning, Vietnamese people often enjoy sticky rice, banh mi, Pho, or noodles (with fish, beef, chicken, or pork). These kinds of food can be seen all day long, for breakfast, for lunch, and even evening. 
The tour starts at 8:30 am from your hotels in Hanoi Old Quarter, our guide will take you to visit Hanoi and introduce you to local life, and Hanoi cuisine… then tastes the best of selected Hanoi street food.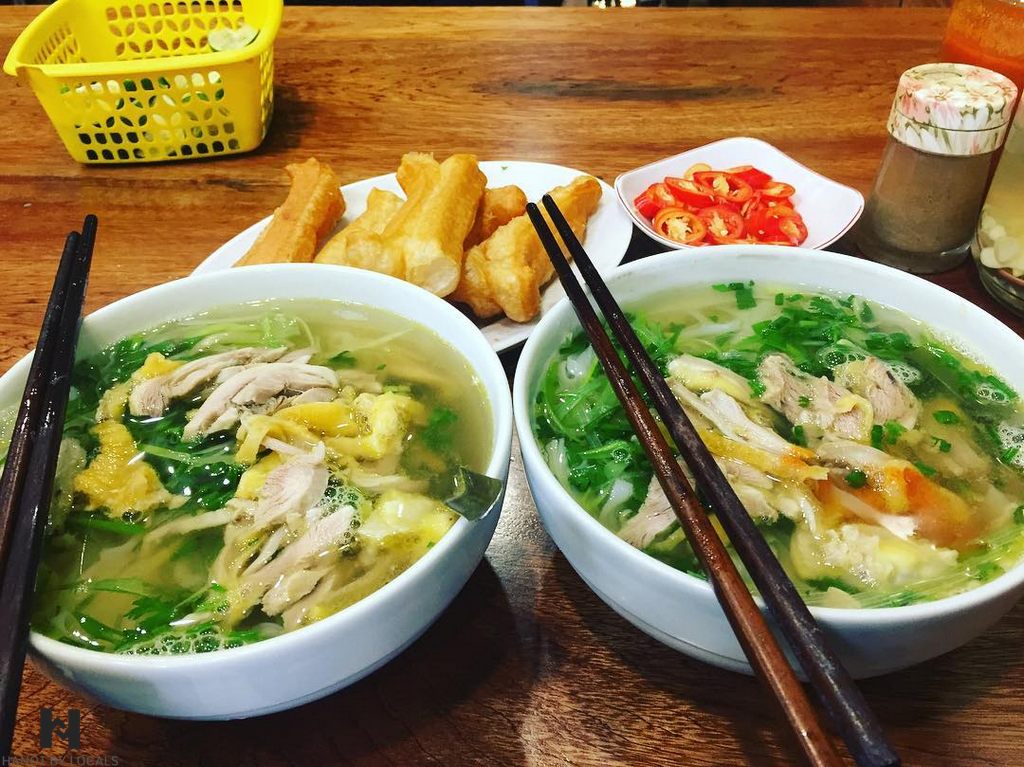 Afternoon street food tour 
They may start at 2 pm and then last at 5 or 6 pm. Along the street, on such hot days, you can enjoy a cup of iced tea, chat with local people, and then ask for banh mi, Pho rolls, or steamed rice rolls.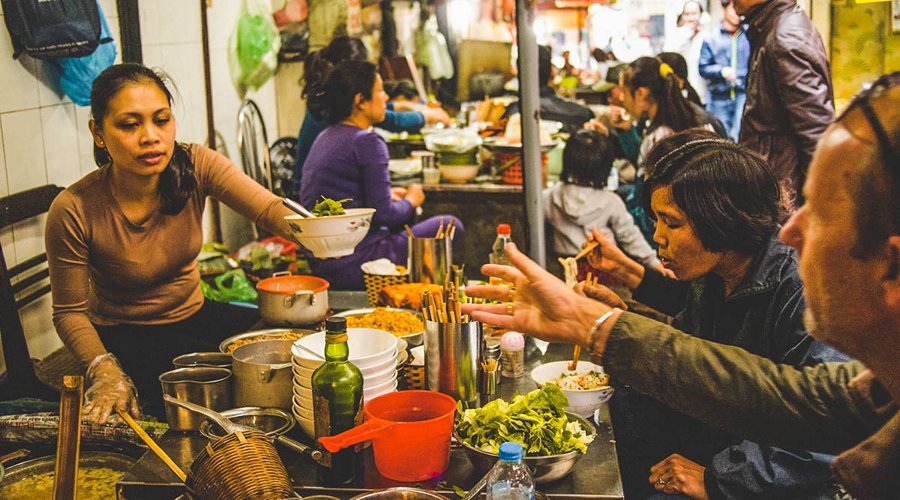 Evening street food tour 
It is a great time to enjoy Beef Noodle Soup, and after that, you can drink a cup of beer at Ta Hien street. There are many more on the list of street food to discover at night. The tour starts at 6:30 pm from your hotels in Hanoi Old Quarter, our guide will escort you to some of the best street food, even with a local beer, and enjoy the nightlife of Hanoi.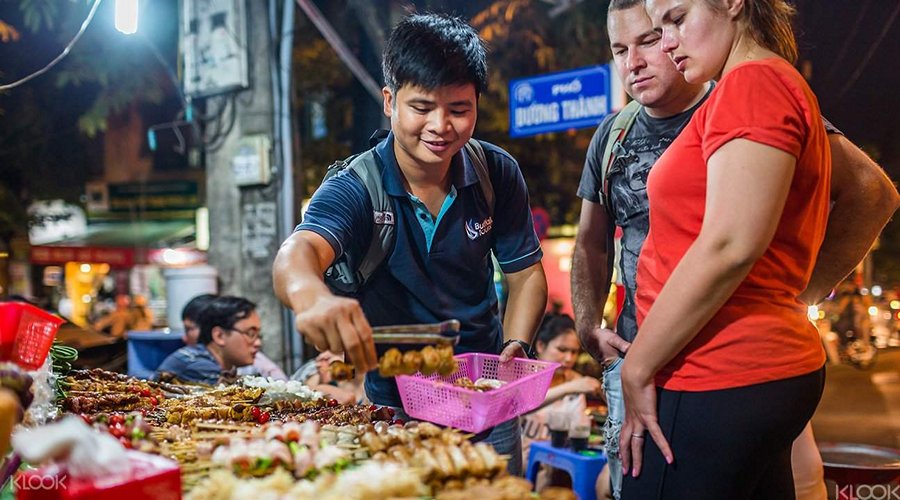 Type of Hanoi street food tours
For experiencing street food, there are 2 types of tours to discover: walking street food tours or motorbike street food tours. 
Walking street food tour
This walking street food tour allows you to explore Hanoi and stop right at the time you want to discover the food. You may not miss any food along the way. But you can only discover a small area. It is suitable for some streets in Hanoi Old Quarter.  Pick up from your hotel in Hanoi Old Quarter then walk to some famous streets for Hanoi foods, stop at any place you want but we pick the best for you!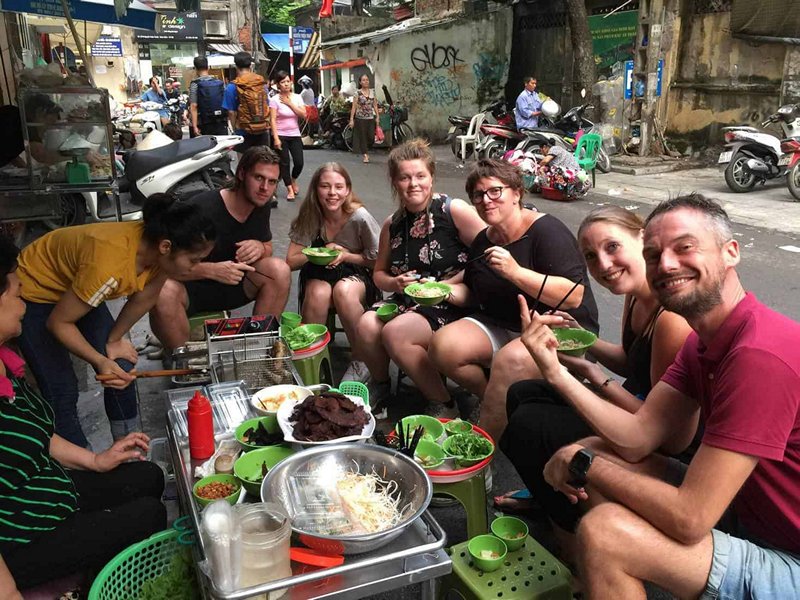 Motorbike (Scooter) street food tour
Enjoy food, as well as immerse yourself in the fresh air and cool wind. You can have a good chance to experience many kinds of food in different areas, moving from this street to another easily. There is not only street food in Hanoi Old Quarter but you can also discover Westlake and French Quarter.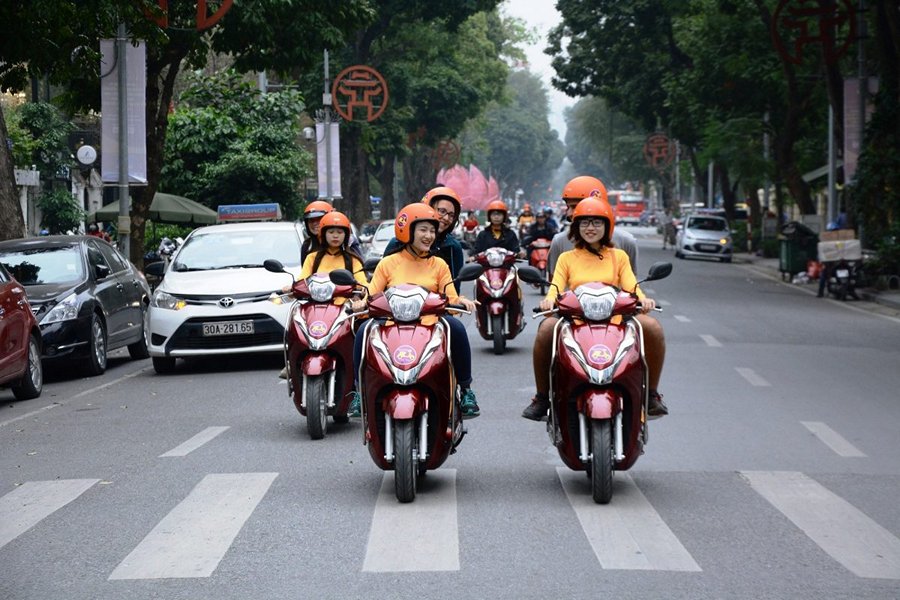 Vegetarian street food tour
Nowadays, many people tend to not eat animal meat. In this case, Hanoi street food tour options are planned to serve this type of customer well. If you can not enjoy nem or pho bo, there are many more dishes to discover during the trip. Vegetarians can try ice tea, che, steamed noodles, green papaya salad (without beef), enjoy bread, enjoy noodles, etc. There are also tours for groups for you to choose, to be with other vegetarians during the tours.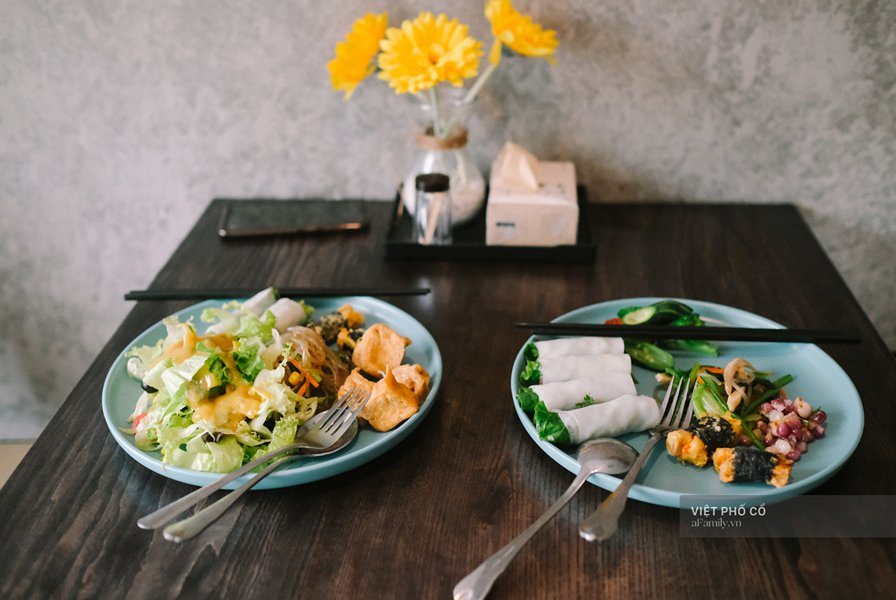 Dishes to try in Hanoi street food tours
As street food in Hanoi is a wide range to be mentioned, we will just suggest some most famous of them and hope you all can discover more during the tour. 
Nem – Pork Spring rolls
Ingredients for making spring rolls must include vermicelli, pork, herbs, eggs, onions, carrots, shiitake mushrooms, etc. The mixture is well prepared and skillfully rolled, then fried in a hot oil pan. People enjoy Nem with rice noodles, raw vegetables, with sweet and sour dipping sauce.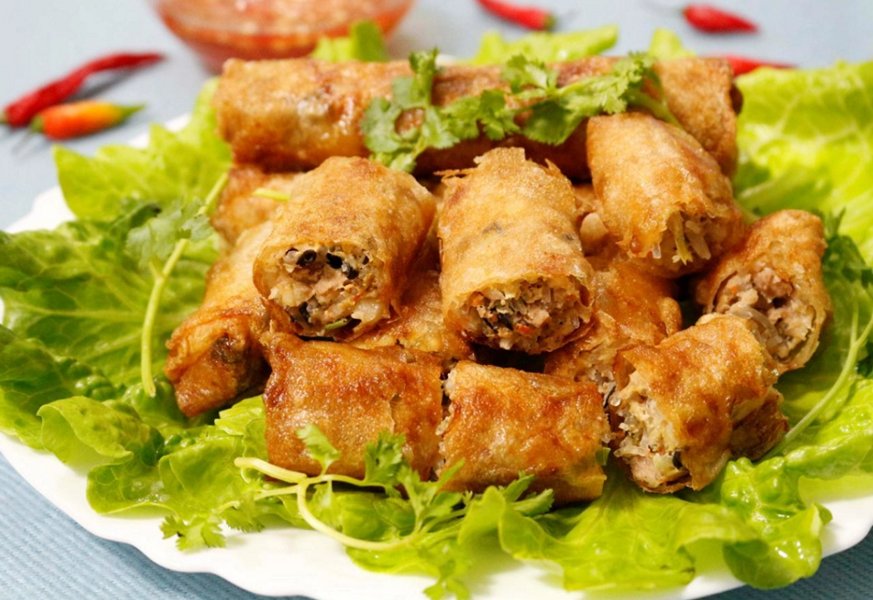 Banh tom – Shrimp Cakes
You can find this kind of street food along the street at West Lake. The cakes with shrimp are fried well and delicious. But the price is a bit higher, in comparison with other street food. It is because the shrimps are very fresh and local people have to take them at night.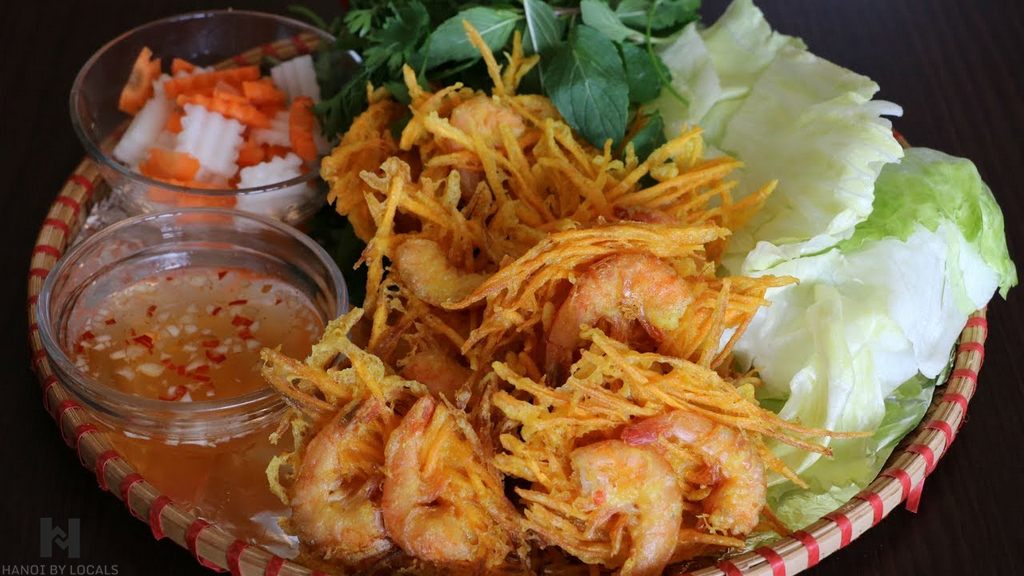 Banh Cuon – steamed rice rolls
This is the classic Hanoi dish for many generations. The pancakes are filled with pork, shrimp, mushrooms, chicken, and shallots. It is very smooth and hot, great when enjoying fried onions. This street food is popular for breakfast and you can see how people make it in front of many stores.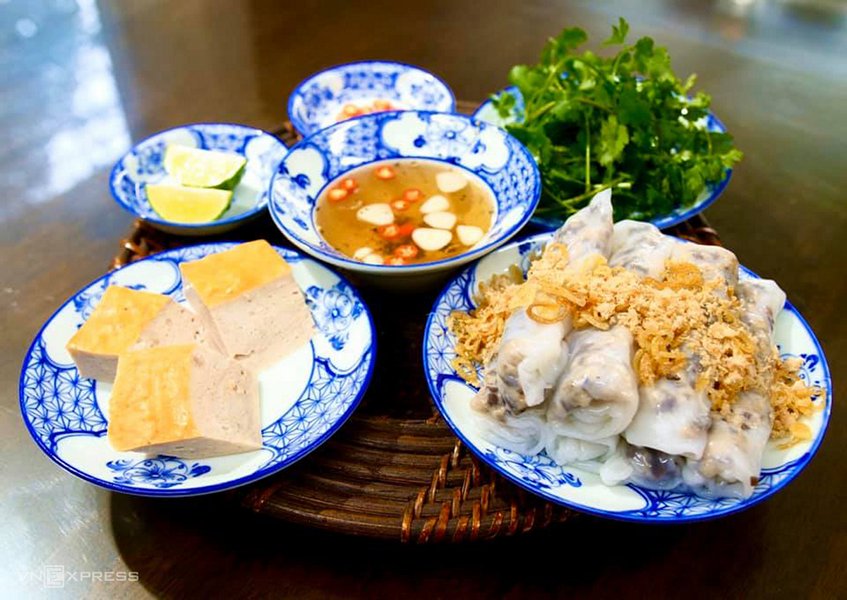 Banh Xeo – Savoury Pancakes
Banh Xeo is a kind of crispy crepe in Vietnam. The food is made from rice flour, including many ingredients such as coconut cream, pork, herbs, shrimp, and bean sprouts. The soup for Banh Xeo plays an important part to make it delicious, which must be a little bit sweet and spicy.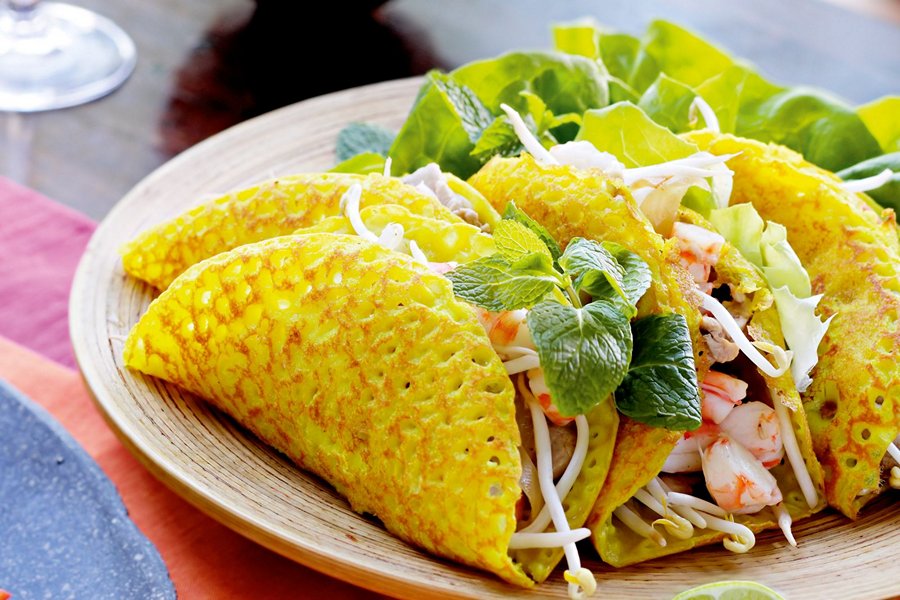 Chè – Sweet Soup
In summer, many shops are selling Che to all people along the street. Che is delicious, sweet, cool, and suitable for hot weather. It can be ranged in many types, including taro, coconut milk, red beans, etc. Che can be served in a glass, or a small bow, depending on each shop. It is cheap street food to try this summer!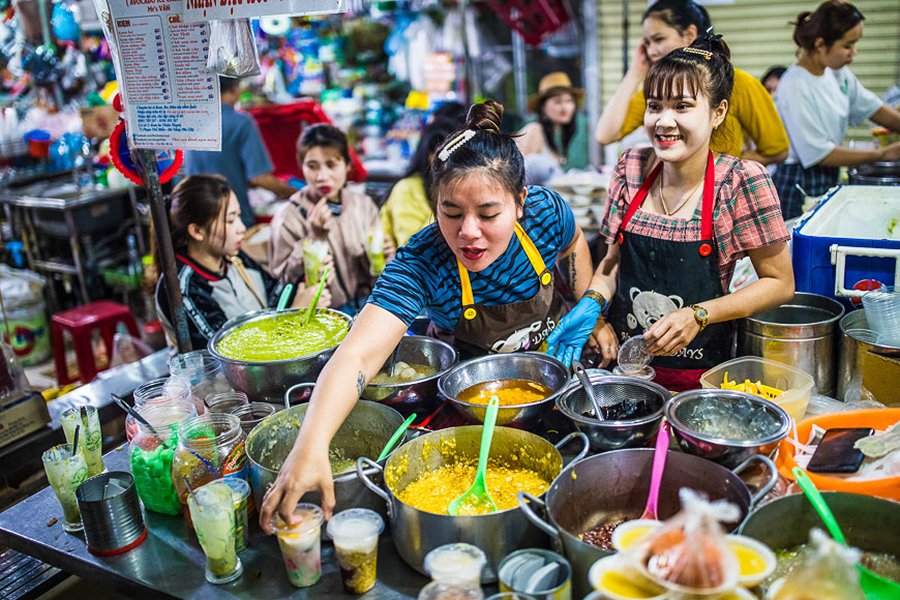 Nom bo kho – Green Papaya Salad
The salad includes green papaya, beef, purple perilla, peanuts, and herbs. The food is so stunning and can make you feel party for the first time trying this! Do not miss such a wonderful dish like this during your tour!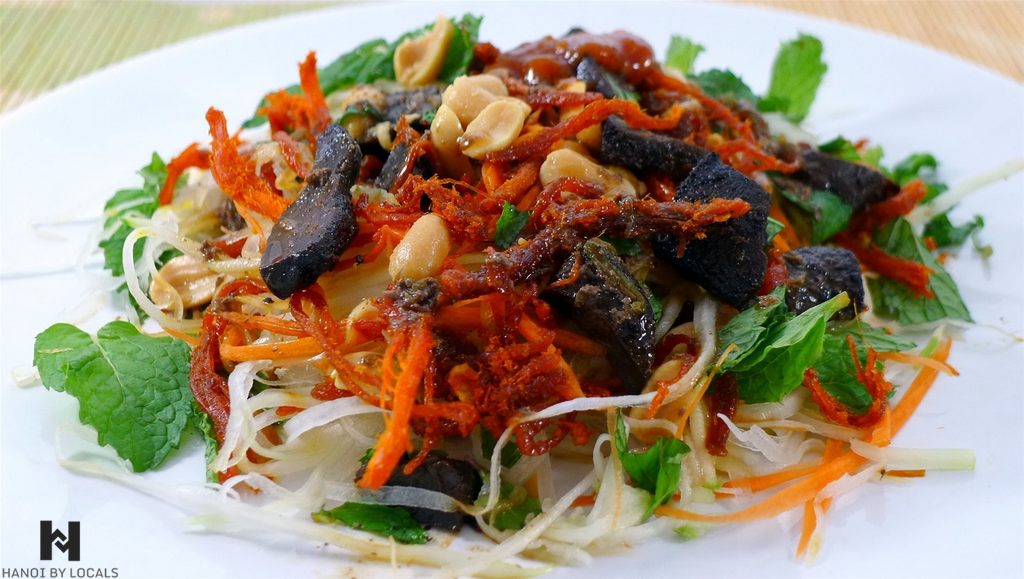 Bun cha – Grilled Pork Noodle Soup
Bun Cha Obama is so famous that many come to try Bun Cha in Vietnam. This food is called grilled pork noodle soup in English and is so delicious that Vietnamese people can enjoy Bun Cha day by day. The food is tasty and yummy with an amazing smell, good white-rice noodles with vegetables, and dipping sauce.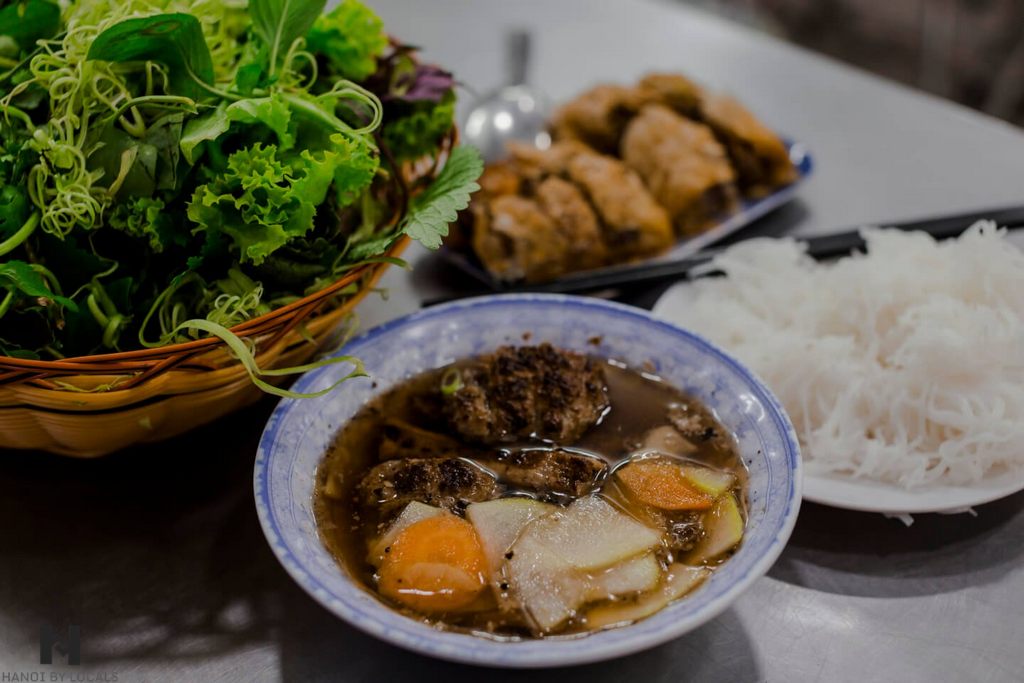 Banh mi – Vietnamese Baguette
There are so many newspapers and videos shared about the Vietnamese Baguette. You can find a hundred types of bami to enjoy. Banh mi can be made with chicken, beef, pork, or pate, with vegetables. This is our breakfast, and lunch food, as well as a choice for the evening. Sometimes, we do not eat sticky rice but enjoy banh mi instead.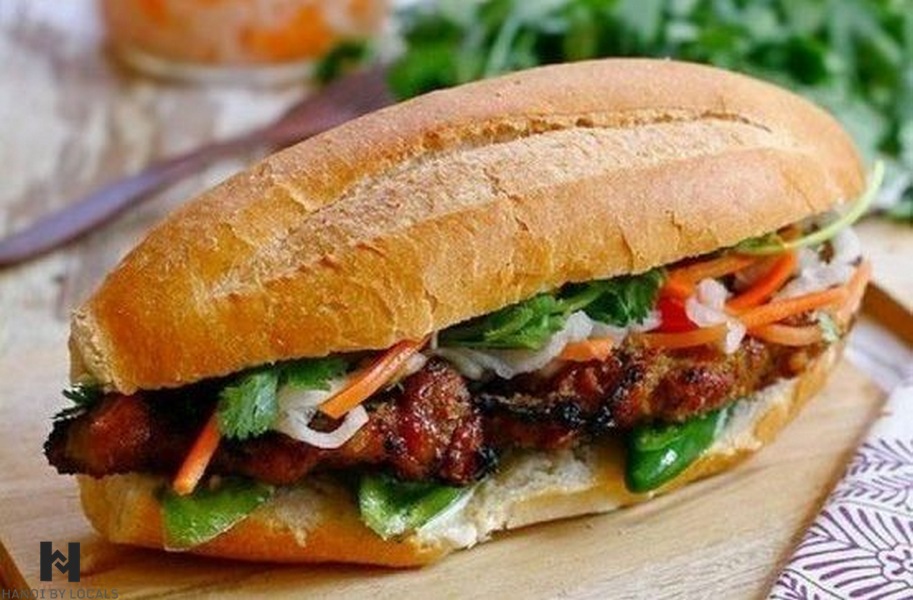 Pho bo – Beef Noodle Soup 
The noodle soup with beef, ginger, and cinnamon can make you feel the party in your heart. That is the reason why Pho was considered among the top 30 most delicious foods in the world by CNN. Besides Pho Bo, Vietnamese people are also proud of chicken noodle soup, fish noodle soup, etc.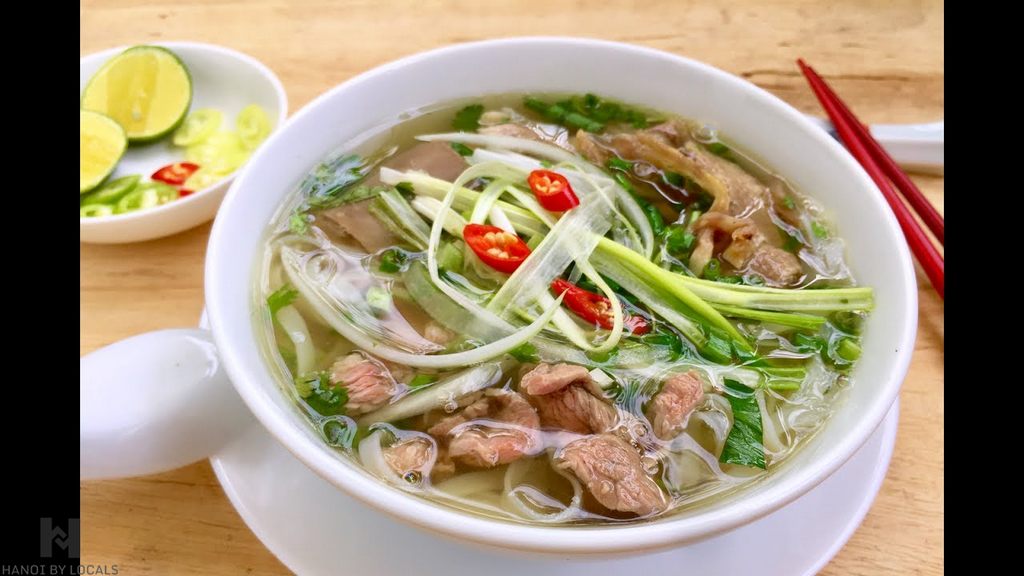 Cafe Trung – Hanoi Egg Coffee 
You may be shocked for the first time listening to egg coffee. Hanoians enjoy this kind of coffee with pride, and the taste can impress anyone who tries it. Egg coffee is now so famous that many foreigners want to come and take pictures of this type of coffee to share with their friends. The cup of coffee with thick milk with eggs seems now so popular with local people.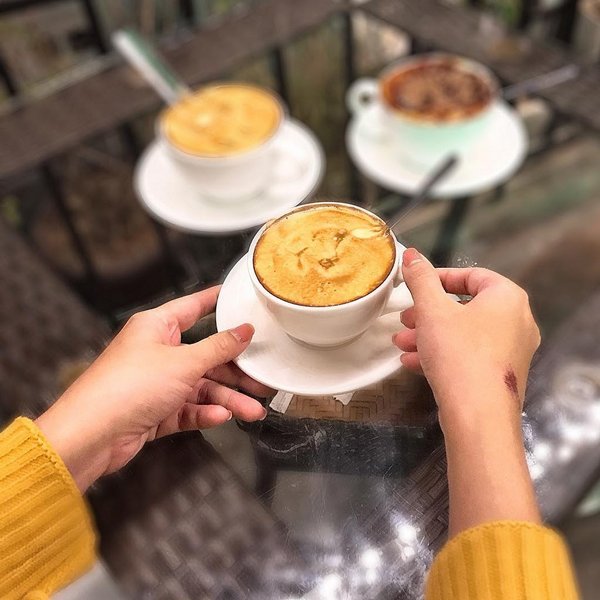 With a lot of detailed information above, hope you all can prepare a wonderful tour for the last 4 months of the year. Welcome to Hanoi and we wish you the best moments when enjoying our street food tours!