Welcome to Hanoi, Vietnam! Our capital has so popular in the world because of its special features! Let's come to us and enjoy such unique local experiences in Hanoi this season!
Enjoy Hanoi street food 
If you have never come to Hanoi, it is a pity! Street food in Hanoi is so yummy, and amazing that many local dishes have been on the list of the best food in the world. Do not hesitate, to come and visit our country and enjoy the delicious dishes of our capital! Let's go!
>> Read more: How to choose the best Hanoi street food tour 
Cha Ca La Vong – Marinated Grilled Fish with Rice Noodles 
Cha Ca La Vong is the most featured food in Hanoi. We love the taste well and enjoy the atmosphere of traditional restaurants.
As we know, Cha Ca is a Northern food of Vietnam. The ingredients include shrimp pastes, dill, spring onion, skinned fish, peanuts, and so on. We often enjoy Cha Ca with rice noodles in the morning or at lunch. 
The special reason for making Cha Ca famous is its taste, the taste is so delicious! Try it when you come to visit Vietnam. The best area to find Cha Ca is in Hanoi's Old Quarter, or at 107 Nguyen Truong To street.
Cha Ca La Vong: 14, Cha Ca str, Hanoi Old Quater (Map)
Cha Ca La Vong: 107 Nguyen Truong To str (Map)
Cha Ca Thang Long: 21 – 31 Duong Thanh str, Hanoi Old Quarter (Map)
>> Read more: Street food tour on motorbike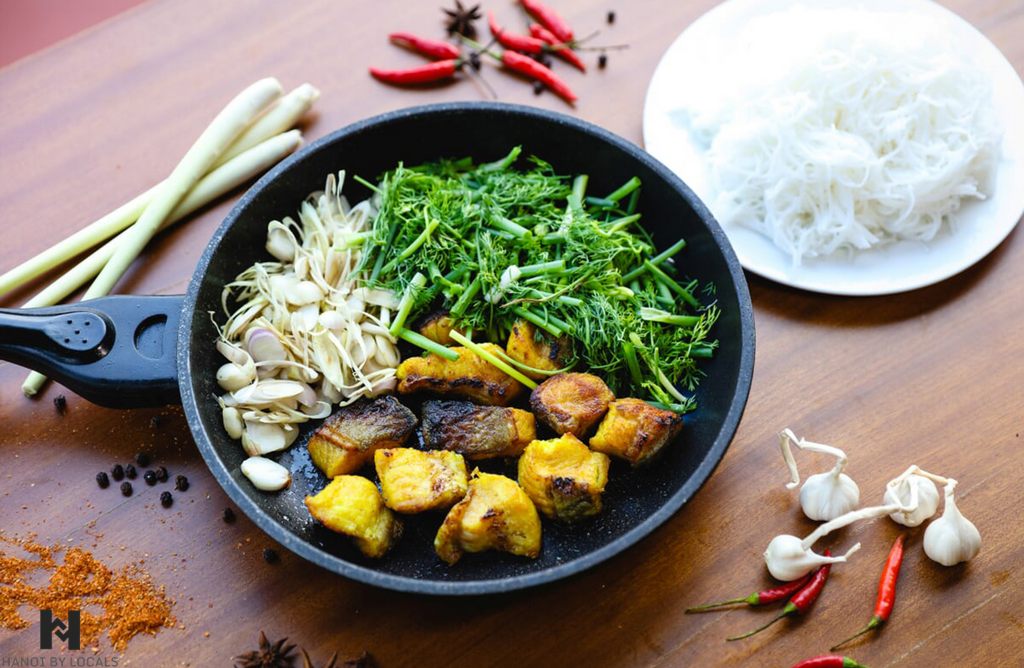 Vietnamese Sandwich 
 None is strange with the famous image of the Vietnamese Sandwich. It is our pride, our best street food which is popular with both the young and the old people. 
Many small stores are selling Banh Mi all day, at the corner, on the street or at the gate of the school. Each Banh Mi has its special ingredients and taste. All are great and attractive. We can use pork, chicken, beef, sausage, eggs and any things we want for a Vietnamese Sandwich. That is the reason why you must try at least one Banh Mi during your trip to Hanoi!
Banh Mi Lan Ong 8 Cha Ca, Hang Ho, Hoan Kiem. (Map)
Banh Mi Tram, 252 Cua Nam street, Hanoi Old Quarter (Map)
Banh Mi 25, 25 Hang Ca street, Hanoi Old Quater (Map)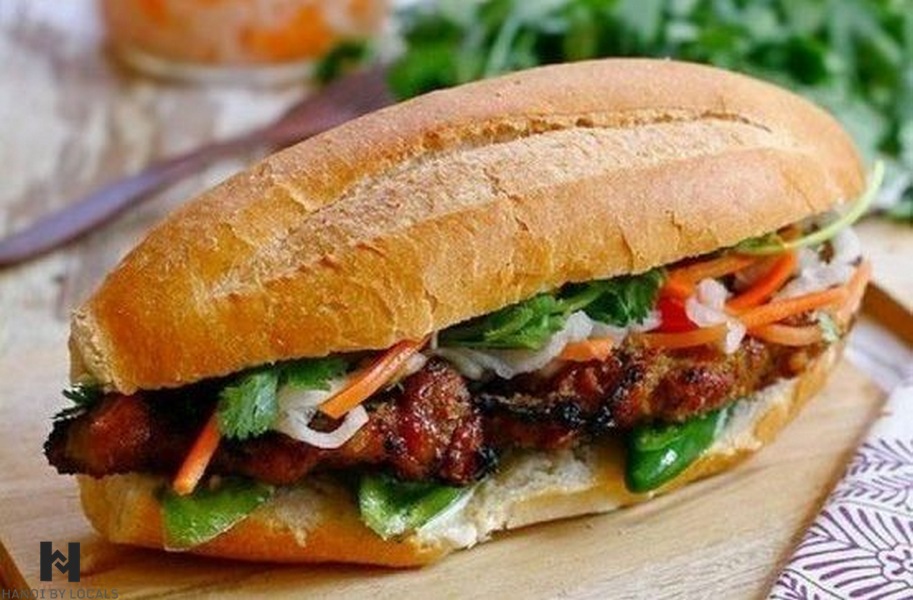 Pho Gia Truyen (Noodle soup with beef or chicken) – #1 traditional food in Vietnam.
Enjoying a bowl of Pho Bo is one of the most unique local experiences in Hanoi. We often eat the dish in the morning, at lunch or at any time during the day.
To make a bowl of Pho Bo Gia Truyen, the cook has to use fresh beef, and sweet soup cooked for a long time. We eat the noodle with a spice of lemon, pepper, and fresh dill. You can enjoy the best Pho at 48 Bat Dan, Old Quarter in Hanoi (Map)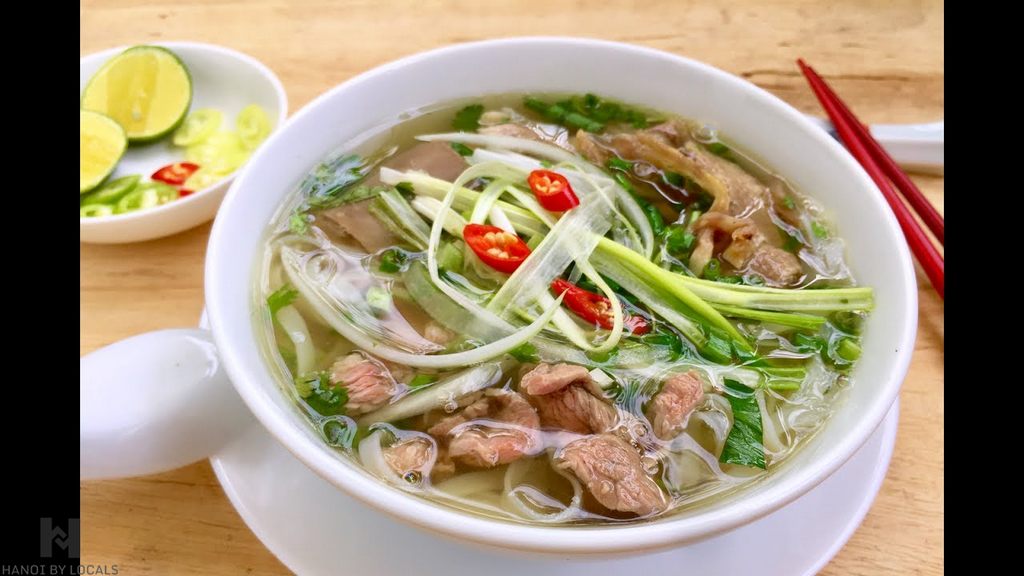 Banh Cuon (Steamed stuffed Rice – batter pancakes) – the yummy and beautiful dish
The best place to enjoy Banh Cuon is at 14 Hang Ga street in the Old Quarter. This is yummy food with beautiful decoration. We often have a plate of Banh Cuon in the early morning.
Banh Cuon is smooth, silky and soft. The ingredients for this food include rice flour, mushrooms, ground pork, onions, and shallots. You have to enjoy it by dipping in the sauce which has a great recipe.
Bun Cha – the famous food for all people
 As popular as Pho, eating Bun Cha is a unique local experience in Hanoi. We often say that this is the first or at least the second famous food for a unique experience in Vietnam.
Bun Cha includes noodles with pork, the meat is cooked well after being ground. To make the best taste of this dish, we have to use pepper, garlic, and herbs when eating.
One of the most popular places to discover the best Bun Cha in Hanoi is at 74 Hang Quat, Hang Gai, Hoan Kiem.
> Read more: Hanoi food for breakfast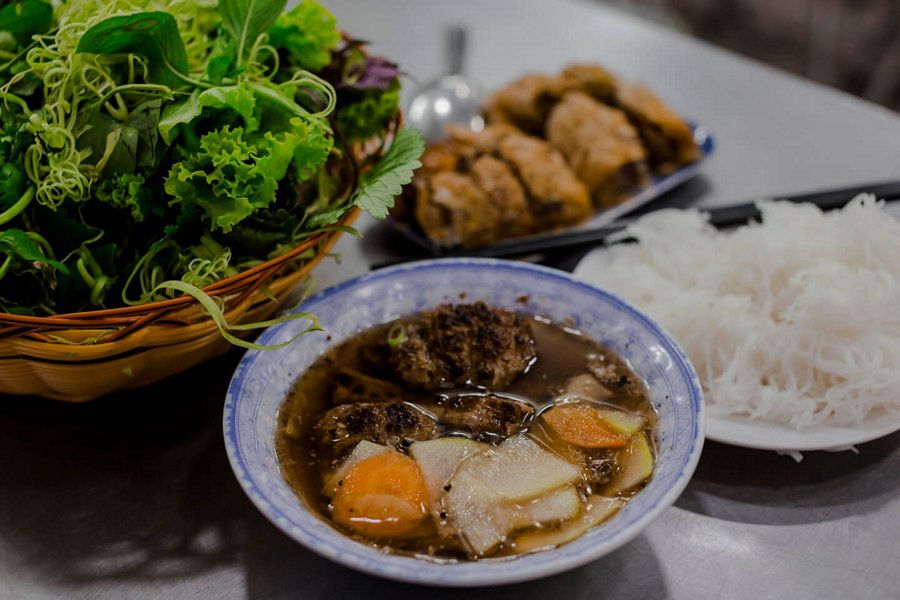 Early morning in Hoan Kiem Lake 
To be like a local, you need this unique local experience in Hanoi: visiting Hoan Kiem lake in the morning. People often go jogging in the morning around Hoan Kiem lake, 5, 6 or seven circles. That is a good way to have good health, easy and healthy. 
There are also many people doing exercise in the bank. Under the tree, they do many different kinds of exercise. from the young to the old, they feel happy and enjoy this way of life. People do not feel strange or shy when others take a picture or use their camera.
In the morning, you can also see women dancing, slowly, step by step, together. They feel the music and dance to enjoy it. The special things are that after dancing, old women will gather and help each other in a row, to relax.
There are also many unique places to visit during Hoan Kiem Lake such as Turtle Tower, the statue of Ly Thai To, The Huc Bridge, and Ngoc Son Temple.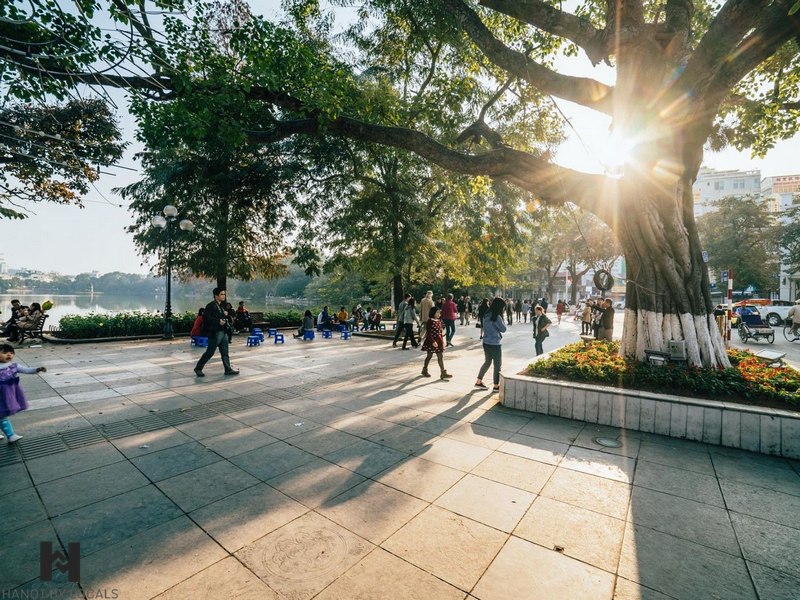 Egg coffee – a must-try drink in Hanoi
Egg coffee of Vietnam is so famous, that it is a must-try drink on any Hanoi tour for travellers. 
the special feature of this coffee is that it includes…eggs. What? Yes, that is a unique ingredient. This is a must in our list of uniquely local experiences in Hanoi.
The famous man who creates the first egg coffee is Mr Giang. He introduced the drink for the first time in 1946. Until now, Giang coffee has been popular in the world.
To make a wonderful egg coffee, the bartender has to use egg, with a secret recipe, to create a yummy taste for the drink. there are even other egg beverages such as egg chocolate, egg matcha or egg beer.
There are two ways for you to enjoy an egg coffee cup: hot or cold. If you like a hot cup, you can receive an egg coffee with an egg-based head, which is very foamy. The cold version has ice, with tastes like ice cream, amazing!
>> Read more: Where to find the best egg coffee in Hanoi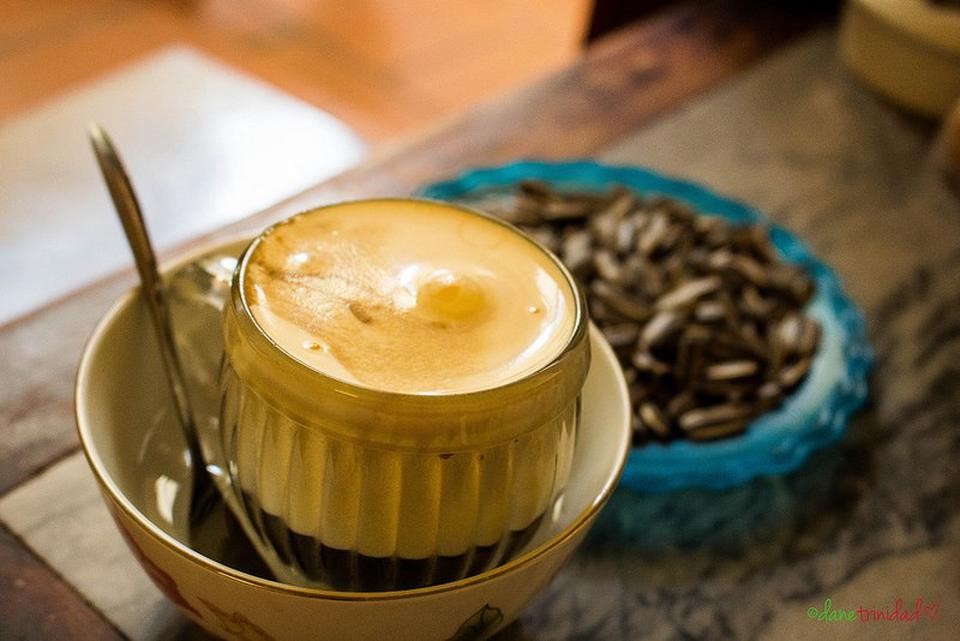 Dinner with a local family 
Have you ever thought about this? Enjoying dinner with the local people? Well, it will be very special, such a unique local experience in Hanoi, Vietnam.
Exactly what can you get on such a tour like this? You can enjoy traditional food, such as Bun Cha, Banh Cuon, Pho Cuon, and others. After the meal, we often drink tea, which is a good way to be good after eating so many things.
If you have this experience, you can not only have a good meal, enjoy food or drink. The thing is that you can go with the local people to buy things for dinner. You have a chance of making dishes with them, see how they decorate the food and make its taste.
Because Vietnamese food is amazing, if you know how to cook, it is such a wonderful thing to know, right? You can enjoy the food even when you come back to your country. Let's imagine, if you love a Vietnamese, cook for him/her and see the happy feeling they can reach. Believe me, that is special.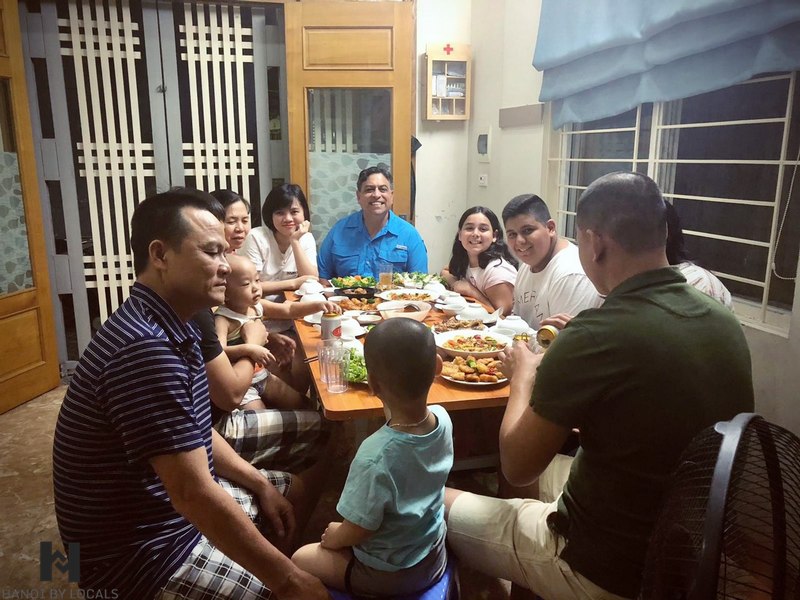 Sit back on the motorbike on crowded streets  
Well, such a strange thing to hear about! If you can not sit for hours to look at people around in your country, this is a thing you can do in the Hanoi capital. Enjoy life passing by, seeing people moving and things change, that is great. Vietnamese are friendly, there are vendors with local food walking passing your place. 
To be like a local, you must try this activity. We spend a lot of time, sitting somewhere, especially on a motorbike to enjoy life. You may be a Graber, Beeman or more than that. 
Let me tell you this, you may not know much about Vietnamese traffic. Just spend time on your motorbike, on crowded streets, in the high rush, and see. You can easily understand us!
> Read more: How to choose the best Hanoi scooter tour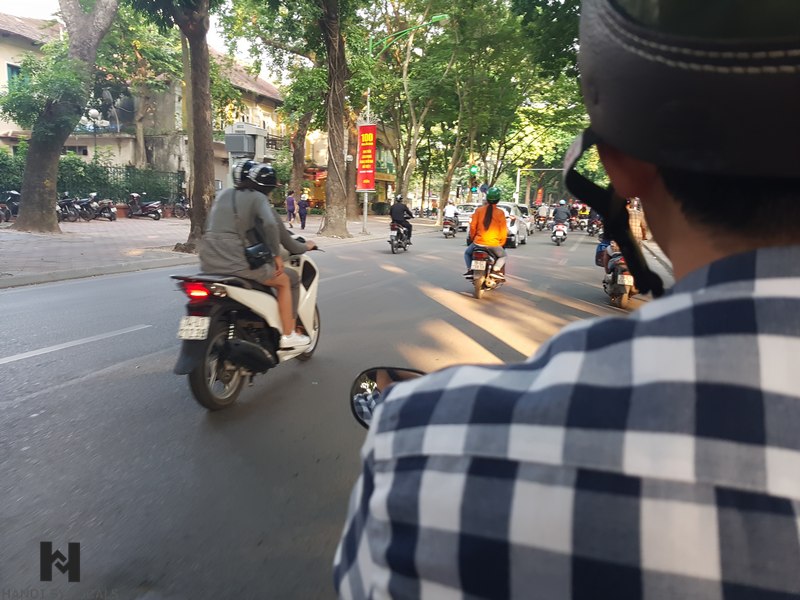 Enjoying Beer at Hanoi Old Quarter 
Hanoian likes beer. The cheap and popular beer in Hanoi is Bia Hoi, which is just around 10.000vnd for a cup. It is not the best, but at a good price for guys to drink much. This is the cheapest price for a cup of beer all around the world.
If you want to enjoy beer, come and take a seat on Ta Hien street in the Old Quarter. Day by day, people gather at this place, in the evening, chatting with cups of beers on the table.
When enjoying beer, you can also enjoy some kinds of snacks such as fried tofu, steamed peanuts or skewered meat.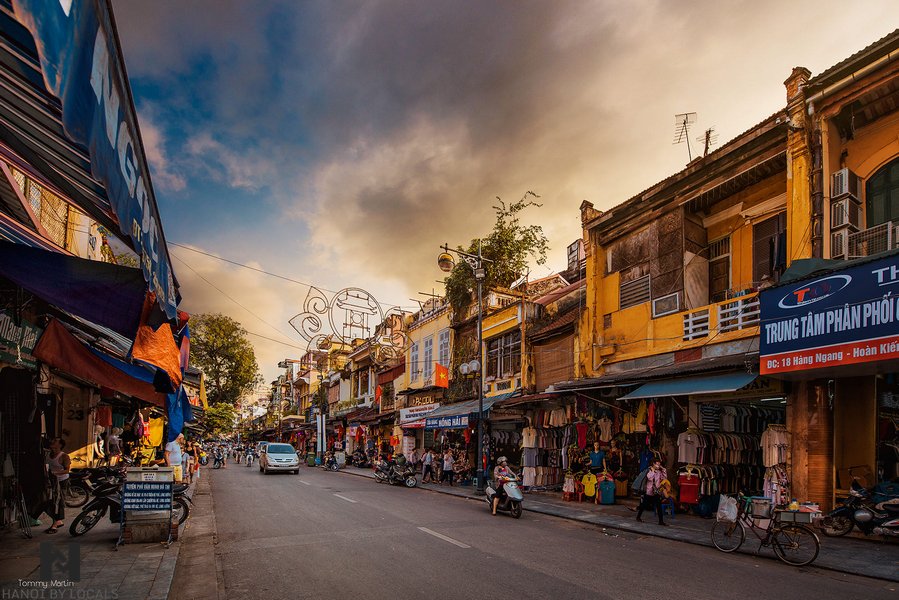 In conclusion, there are many ways, many unique local experiences in Hanoi. You can choose some to try, or enjoy all to have a real tour like a local.