How to spend 2 days in Hanoi, the capital of Vietnam? Well, do not worry! In this article, we will answer all the essential questions. Where to stay? What to eat and things to do? Just read this!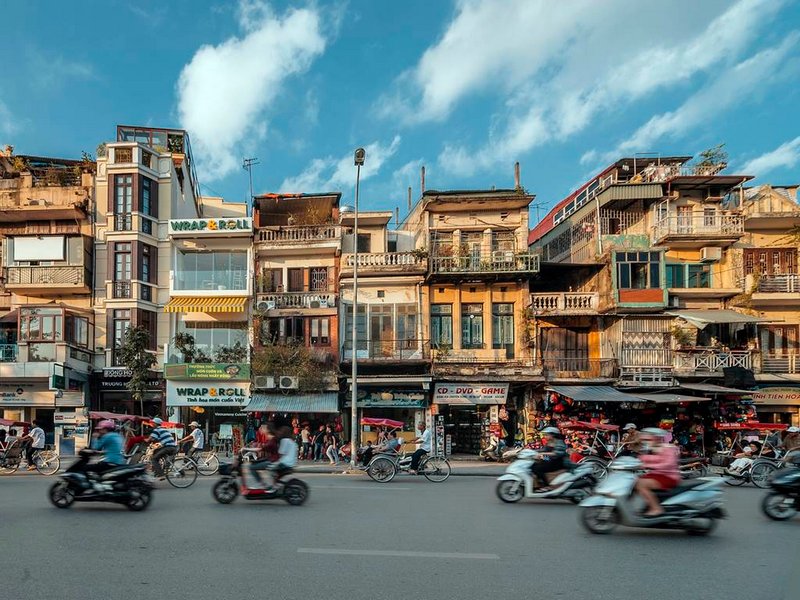 What you must do within 2 days in Hanoi
Enjoy street food in Hanoi's Old Quarter: Pho (Noodle soup with beef, and chicken), Bun Cha, Cha Ca… and other famous street food of Hanoi.
Try eggs coffee in a local coffee shop.
Visit a pagoda/ temple, and get to know the virtual life of Vietnamese people: Temple of Literature, Tran Quoc pagoda,  Ba Da pagoda… and other pagodas in Hanoi 
Walk around Hoan Kiem Lake, the heart of Hanoi
Visit a historical place to know about the Vietnam wars:  Hoa Lo Prison, Huu Tiep Lake, Vietnam Military history museum,  Long Bien bridge…
Visit a  local market and have dinner with a local family
Try to be on a motorbike tour on the crowded streets of Hanoi
Where to stay in Hanoi?
It is, of course, one of the questions people often ask before travelling. How to spend 2 days in Hanoi? Where is the best accommodation for the next trip? Right now, we will answer all in detail.
There are many crowded districts in Hanoi, where you can have a good hotel or homestay to stay overnight. In Hanoi, some regions are owning a list of places to sleep at night. There are two places most travellers visit and stay. They are West Lake and Hanoi Old Quarter.
Hanoi Old Quarter 
It is the commercial centre of Hanoi. Around this area, you can easily visit Hanoi Opera House and Hoan Kiem Lake. The advantages of this place are good food, a lot of handicrafts, many shops, and a range of restaurants and bars. The disadvantage is the noise and crowded streets. 
Who should stay in Hanoi Old Quarter? The accommodations in these streets are suitable for three kinds of visitors. Firstly, it is for people who like to find a cheap or backpacker hotel. The second type of person is someone who enjoys a luxurious boutique hotel. The third visitors are those who enjoy being in the centre of the capital.
> Must-do in Hanoi: Hanoi street food tour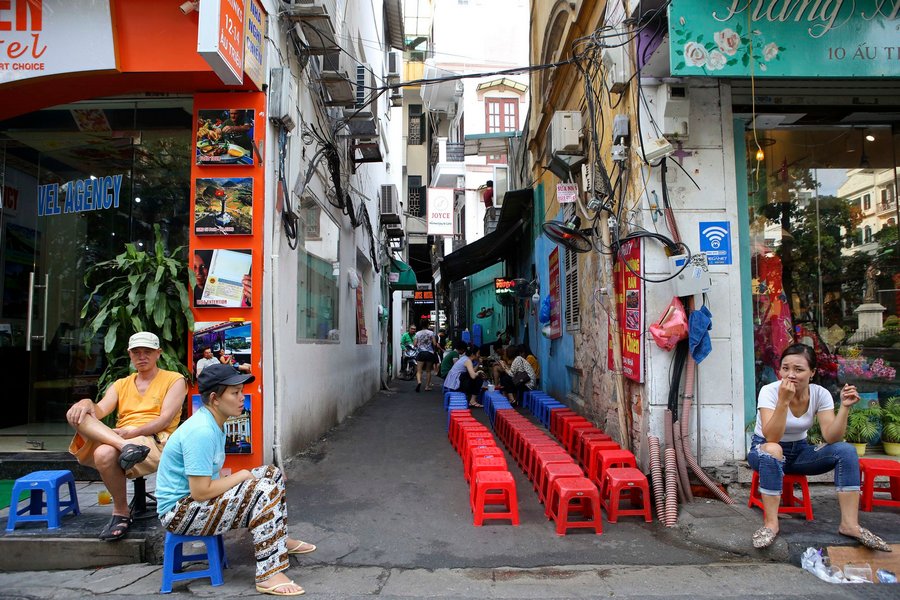 Hanoi French Quarter
Hanoi French Quarter is just next to Hanoi Old Quarter, to the South of Hoan Kiem Lake. You can find many luxurious hotels and upmarket restaurants in this area. Staying in this area, you can easily find the most unique building from French colonial times including Hotel Metropole, Opera House, Trang Tien Plaza, and Indochinese University.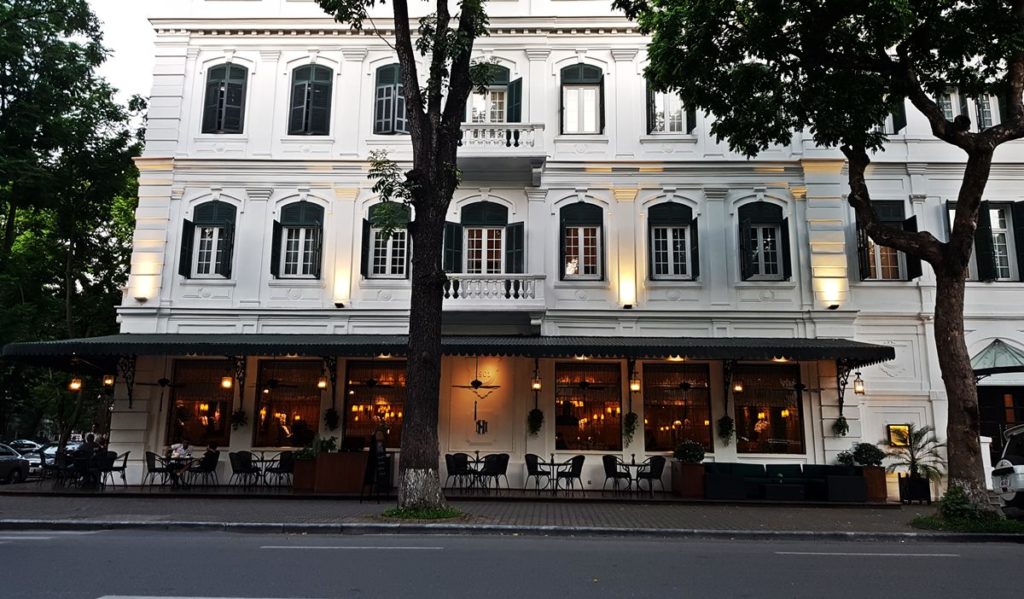 West Lake
West Lake is the place for quiet peace. There are a lot of places to visit around West Lake, such as Quan Thanh temple or Tran Quoc pagoda. There are many expats here so you can find a great destination to relax. The food is good, but the nightlife is a bit limited. That is not easy to travel to other landscapes.
Who should stay in West Lake? People who like quiet peace should choose Westlake to stay. People who enjoy a vast range of restaurants, such as lakeside restaurants, can also stay here. If you are a wealthy traveller, you can choose West Lake as an ideal accommodation.
How to book accommodations in Hanoi? There are many online websites for you to book a room in a hotel or a homestay. You can visit Airbnb, TripAdvisor, Booking.com, Agoda, and so on. You can also book right on the website of the hotel you like.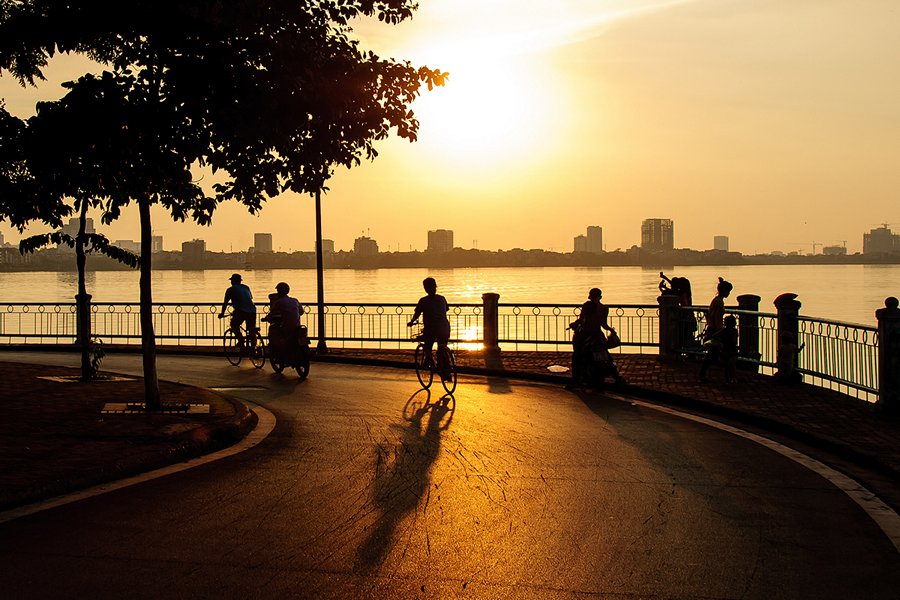 Day 1: Temple of Literature > Hoa Lo Prison > Long Bien bridge > Hanoi Old Quarter
Visit The Temple of Literature
Address: 58 Quoc Tu Giam Street, Van Mieu, Dong Da District, Hanoi 

Time to visit: 8:30 – 11:30 & 13:30 – 16:30 (Tuesday – Sunday)

Entrance fee: 30.000 VND/ person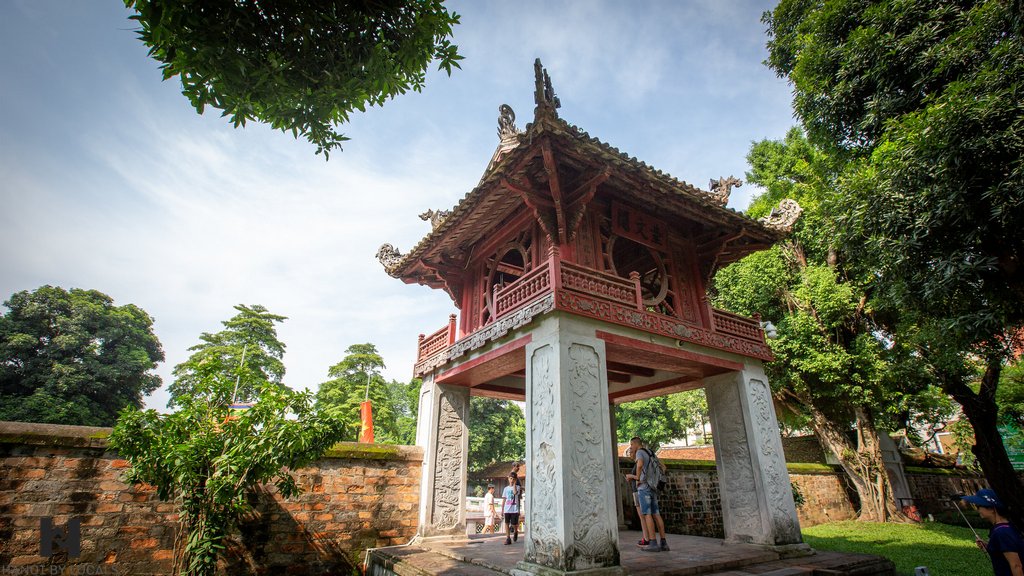 The Temple of Literature, also called Van Mieu, is the first university in Vietnam. In this temple, we still keep the names and ages of the first doctors on 82 steles. That is the reason why many students come to try to pray for their exams with belief.
Van Mieu has a unique design with five courtyards. Each one is used for different purposes. Every day, hundreds of people flow to visit the area in Dong Da.
Discover Vietnam during Wars at Hoa Lo prison
Address: 1 Hoa Lo, Hanoi

Time to visit: 7 AM to 5 PM

Entrance fee: 30.000 VND/ person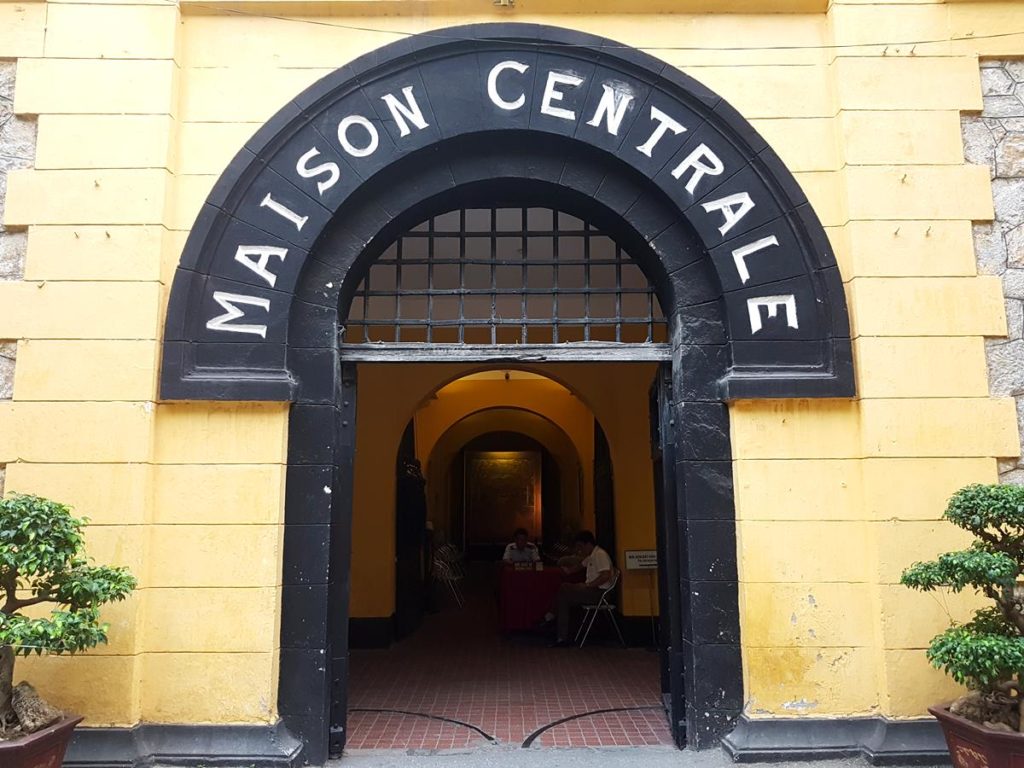 If you do not know how to have an unforgettable experience, let's try visiting Hoa Lo prison in Hanoi. 
In the past, this was the home to many political prisons during the war between Vietnam and the French. Americans called this "Hanoi Hilton" and this was the place where John McCain spent a part of his life.
These days, Hoa Lo prison is open to tourists as well as local people. It reminds us of the hurt days with suffering. You can know how wars damage people. That is the reason why the Vietnamese have intense patriotism to conquer independence.
Long Bien bridge on a motorbike tour 
Long Bien Bridge was the symbol of the Hanoian people for resilience. It is also one of the greatest accomplishments of the French colony in Hanoi. The bridge was built between 1899 and 1902 by Gustave Eiffel (of Eiffel Tower fame) to have better control over the Northern Vietnam region.
The 100-year-old bridge of Hanoi is now still used for train, motorcycles, bicycles and foot traffic while other traffics are directed to other bridges. The best way to visit the bridge is to take a motorbike tour 
Long Bien Bridge is a must-visit for travellers in Hanoi to know as evidence of war and also a stunning place to capture local life and beautiful landscape over the Red River in Hanoi.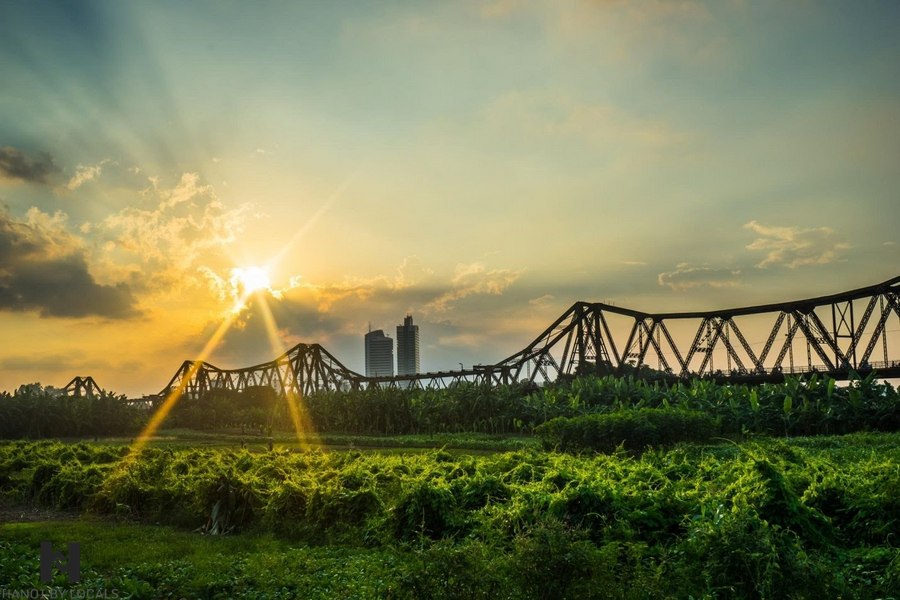 Discover Hanoi Old Quarter at night
Address: Hanoi Old Quarter, Hoan Kiem 

Time to visit: anytime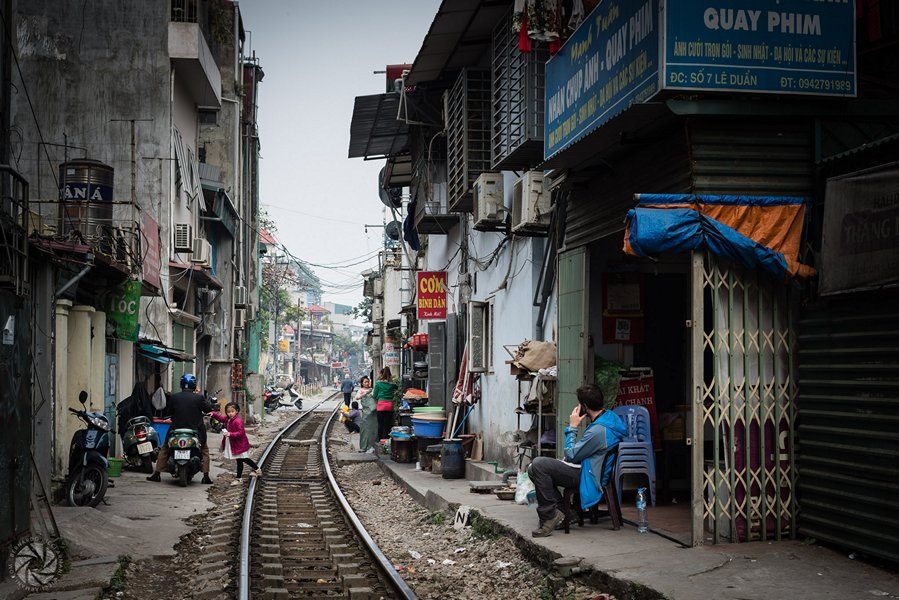 If you wonder how to spend 2 days in Hanoi, do not hesitate to visit Hanoi Old Quarter in the evening and enjoy amazing things like a local. You can sit for a bear, enjoy delicious Pho, and then walk around, and find someone to chat with while drinking ice tea along the street. Great!
Day 2: Hoan Kiem Lake > Ho Chi Minh mausoleum > Thang Long Citadel > Dong Xuan market > Water puppet show
Morning walking around at Hoan Kiem Lake
Address: Hoan Kiem Lake, Hoan Kiem district

Time to visit: anytime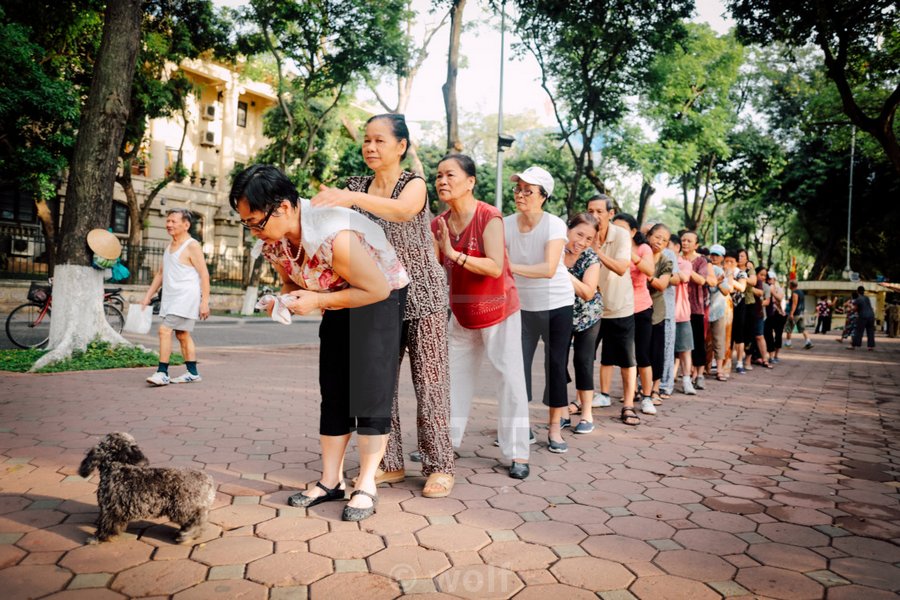 Hoan Kiem lake is a great place, which is so famous that none miss it in their list of must-come in Vietnam. This has a historical legend, as well as many amazing places to discover. You can walk around the lake, enjoy ice cream and visit some great destinations, such as Turtle temple, The Huc bridge and so on.
Pay respect to the first president of Vietnam at Ho Chi Minh's Mausoleum
Address: No 8 Hung Vuong, Dien Bien, Ba Dinh District, Hanoi

Time to visit: 07:30 – 10:30 (Tuesday – Thursday) & 07:30 – 11:00 (Saturday & Sunday)

Entrance fee: 25.000 VND/ person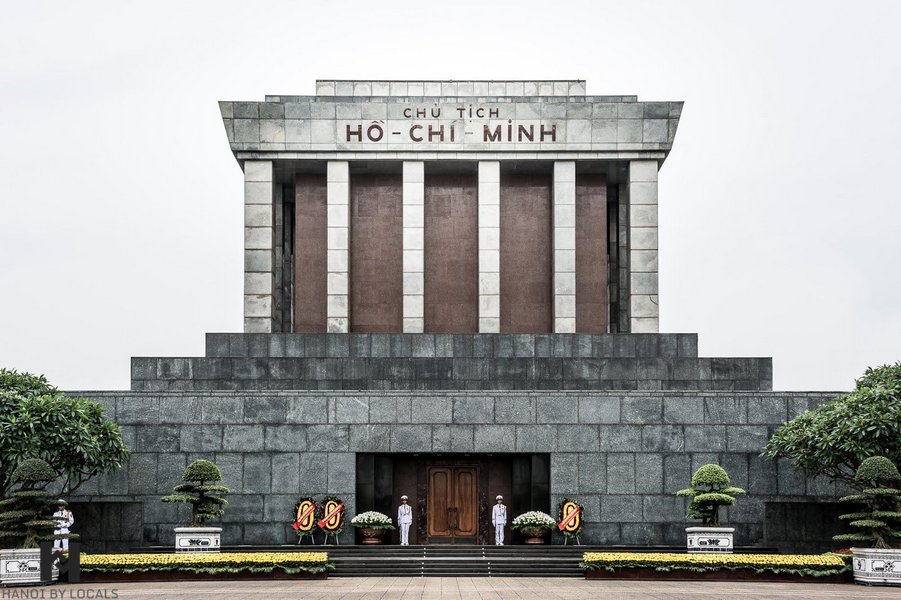 Ho Chi Minh, also known as "Uncle Ho" is the first and most beloved president of Vietnam. He, with patriotism, spent his whole life fighting for the independence of this country. He is a famous leader that anyone can pay respect to. This Mausoleum is to remind his exceptional dedication to Vietnam.
Visit  Imperial Citadel of Thang Long
Address: Ba Dinh district, Hanoi

Time to visit: 8:00 – 12:30 & 13:30 – 18:30

Entrance fee: 30.000 VND/ person 
Thang Long Citadel with the high flag tower is the symbol of Hanoi. It is a World Heritage Site recognized by UNESCO in the past. Nowadays, the Thang Long citadel is known as a historical relic of Hanoi. It plays an essential part in the culture of Vietnam.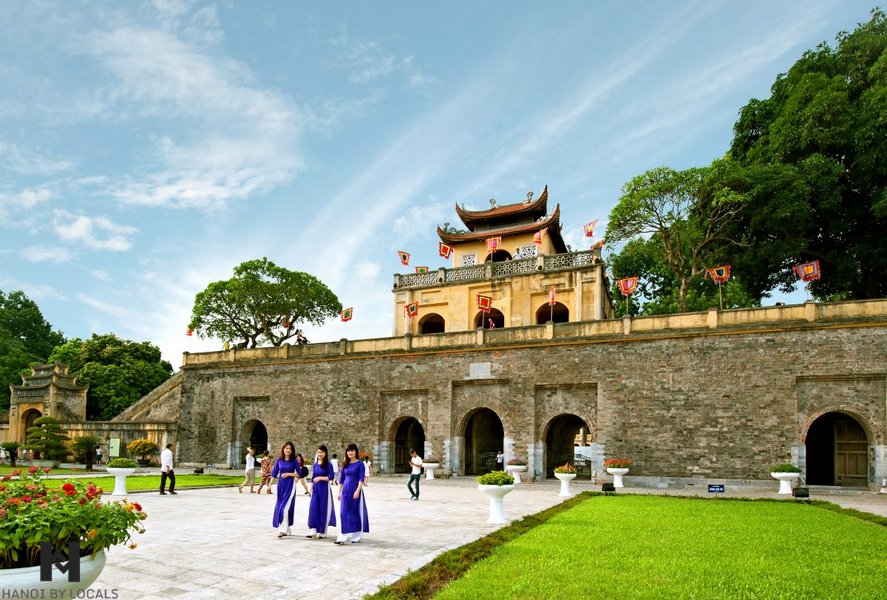 Shopping at Dong Xuan Market
Address: Dong Xuan, Hoan Kiem, Hanoi

Time to visit: 06:00 – 19:00 

Entrance fee: No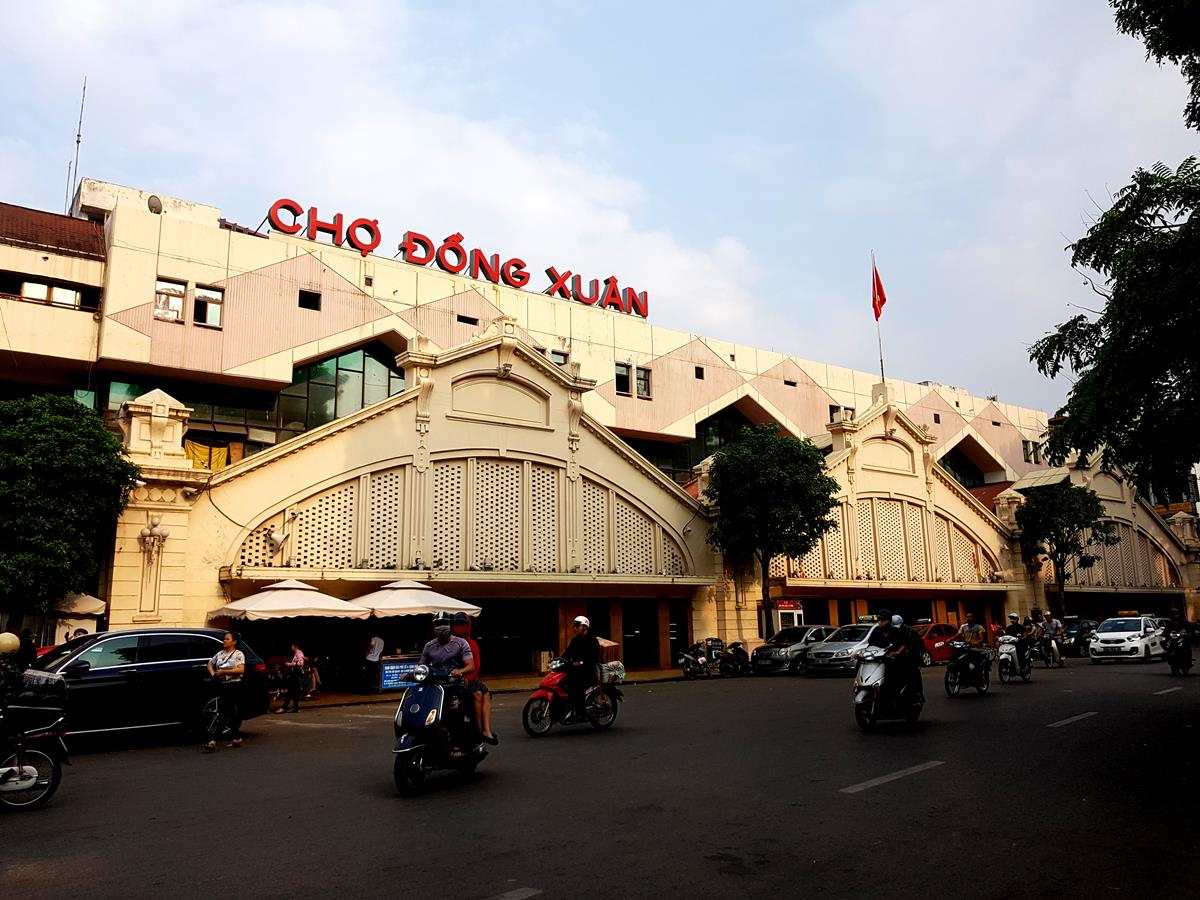 Dong Xuan Market is a big market where you can buy anything at the lowest price. It is the wholesale market in the Hanoi capital. That is a great idea to shop and purchase souvenirs at the Dong Xuan market.
Hanoi French Quarter
If you tell me that the Old Quarter – of Hanoi is a bit ruined with all those old buildings, I would laugh and tell you that it is true but it is the most beautiful thing about Hanoi.
The French people came with the mass construction of office buildings, personal mansions, theatres, Opera houses, and prisons. Sometimes, I wander around Hanoi and realize that many old French-style houses are well-hidden behind large and shining billboards in old quarters, or laid behind a narrow valley that no doubt you will miss if it isn't by chance you step inside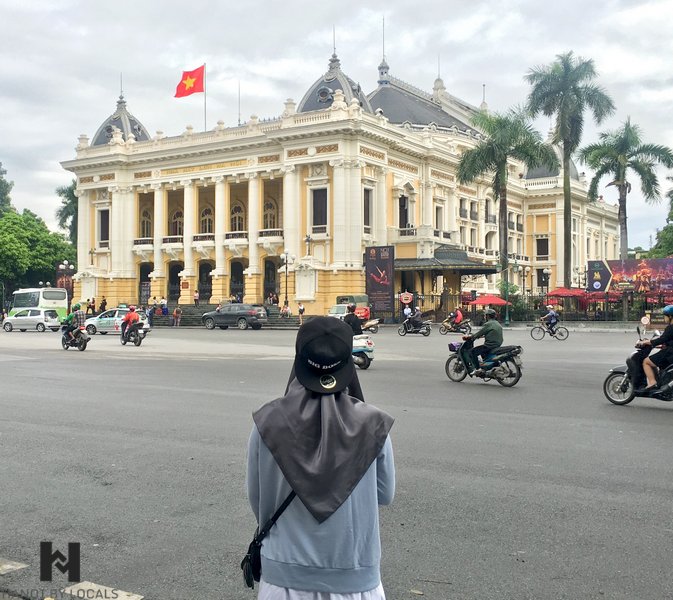 Enjoy a Water puppet show
Address: Thang Long Water Puppet Theater 57B, Dinh Tien Hoang, Hoan Kiem, Hanoi 

Show schedule: 15:00, 16:10, 17:20, 18:30 and 20:00

Ticket: 100.000 – 140.000 VND/ person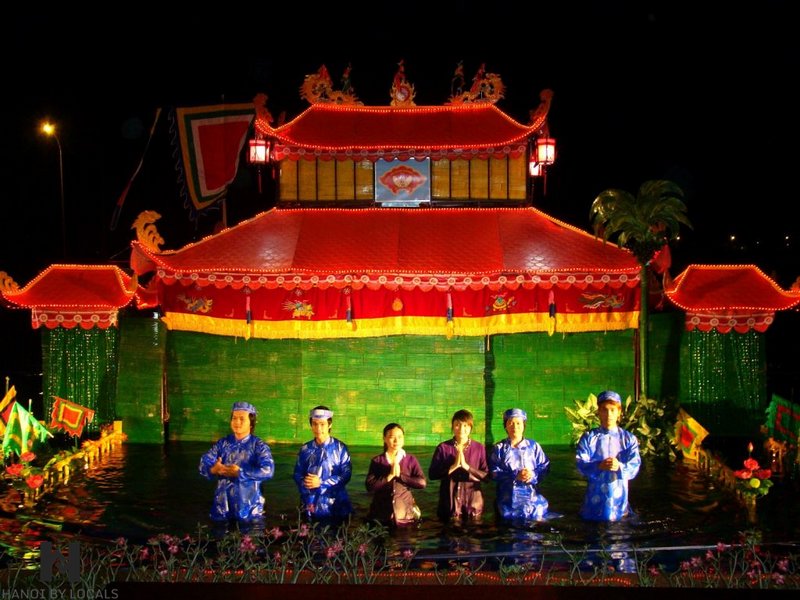 Vietnamese is famous for the water puppet show, which is very unique and featured. Enjoy a water puppet show is a must-do in the Hanoi capital. Many theatres are performing this show around Hoan Kiem lake. How to spend 2 days in Hanoi? Just try the activity, and you can get a unique experience. Buy a ticket and take a seat at Thang Long Puppet Theatre or Lotus Water Puppet Theatre! There are also some other performances in Hanoi that you might interested. 
What to eat in Hanoi for 2 days?
Hanoi is so famous for its food. That is the reason why we have to list so many delicious dishes for you to try when visiting Hanoi. 
Pho: special noodles with great broth, enjoying with fresh vegetables, lemon, and pepper.

Bun Cha: noodles with fried pork with vegetables, and a unique sweet soup

Cha Ca: the amazing yummy dish made from fish, eaten with noodles.

Banh Mi: the most famous street food with different recipes

Banh Cuon: the silky, smooth, and soft food with ground mushroom, onion, shrimp, and pork.

Nem: Vietnamese spring roll being cooked well in oil, enjoyed with noodles.

Bun Rieu: Noodle with crab eggs, no meat, but delicious and yummy.

Bun Dau Mam Tom: noodles enjoyed with fried tofu, boiled pork, fishcakes, and

shrimp paste.

Banh Xeo: Vietnamese pancake, ingredients include shrimps, pork, veggies, and more.

Egg coffee: the unique coffee with egg

Bia Hoi: the cheapest beer in the world
It is great to enjoy Hanoi local food in a restaurant or street food at local places. In the restaurant, you can find not only Vietnamese authentic food but Western food, Indian food… We do recommend you try authentic Vietnamese food in Hanoi.
Restaurant suggestions in Hanoi
Ngon Restaurant at 26B Tran Hung Dao. It offers various Vietnamese foods from 3 regions.
Cau Go Vietnamese cuisine restaurant at the top of the building – 73 Cau Go street. And Green Mango restaurant: Both restaurants are a little bit high budget, but delicious foods.
Plenty of street food shops:
Banh My (Vietnamese bread): Banh My 25 at 36 Hang Ca, Banh My Bom Bop at 92 Hang Trong, Bánh Mỳ doner kebab Đức Long at 4 Luong Ngoc Quyen.
Pho (Hanoi Noodle): Noodle with beef Pho 10 Ly Quoc Su at 10 Ly Quoc Su street or 42 Hang Voi street, Pho Vui at 25 Hang Giầy str. Noodle with chicken: along Hang Hom street or 10 Luong Van Can (They offer mixed noodles, noodles with soup).
Bun bo Nam Bo: 67 Hang Dieu, Hanoi Old Quarter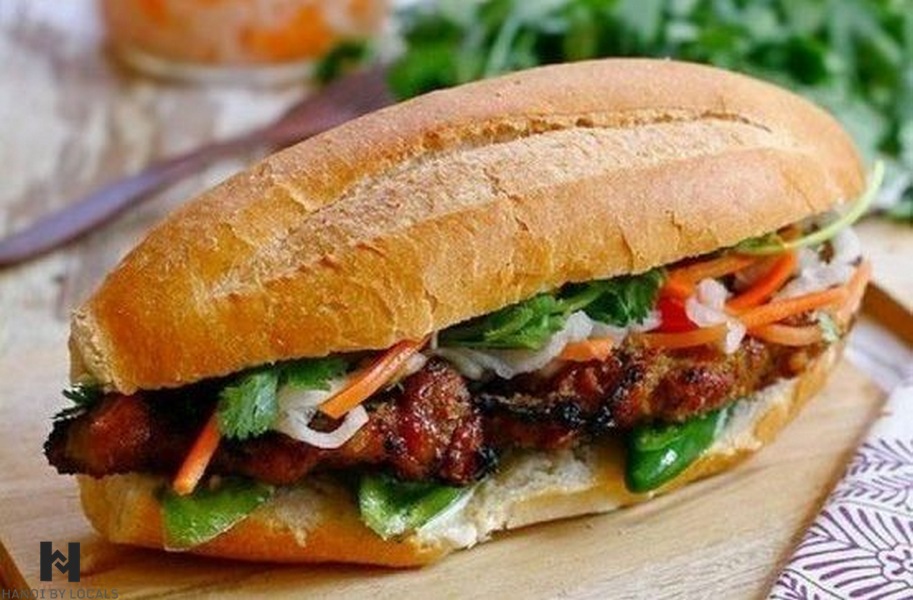 Getting around Hanoi in 2 days
Hanoi city does not have a great public transportation system but it is easy to get around Hanoi between Airport to city downtown and tourist destination.
Taxi from Airport to Hano city downtown: 12 USD – 15 USD/ private car, drop off at hotels
Bus 86 from Airport to City downtown: 35.000 VND/ person
Grab Bike, Car: easy to call a taxi, grab a car, or motorbike taxi around Hanoi at a fixed price.
Hanoi city tour on a double-decker bus  
Hire a motorbike to ride around the quarter if you get to use a motorbike before.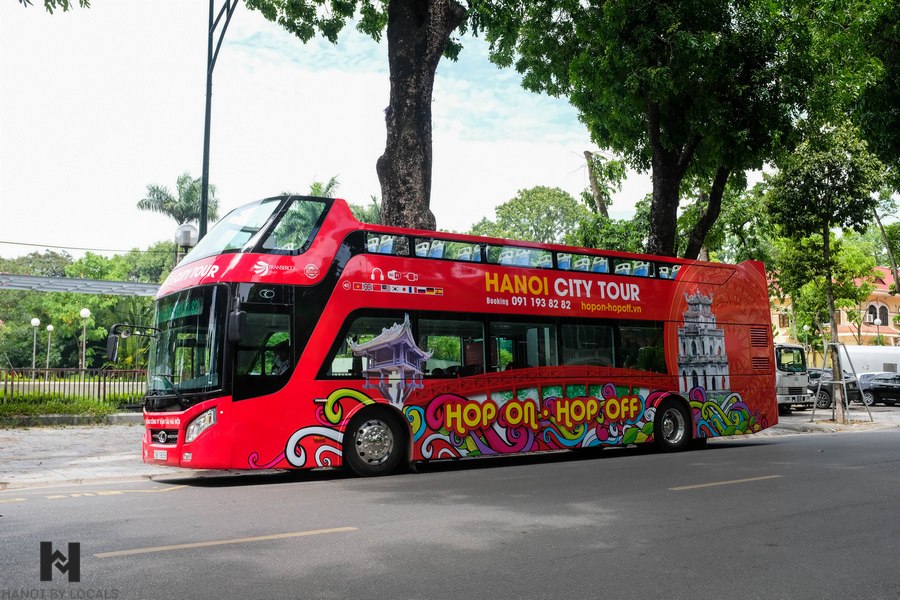 2 days tours from Hanoi to a nearby destination. 
If you are looking for 2 days tour from Hanoi, there are some destinations that you could consider
2-day tour Hanoi – Halong Bay on an overnight cruise
2-day tour Hanoi – Sapa
2-day tour Hanoi – Ninh Binh
2-day tour Hanoi – Ba Be
2-day tour Hanoi – Mai Chau
More details of itinerary suggestions and things to experience in these tours can be found in this article
With our detailed suggestion, you all can know how to spend 2 days in Hanoi to get beautiful moments. Welcome to Hanoi, Vietnam